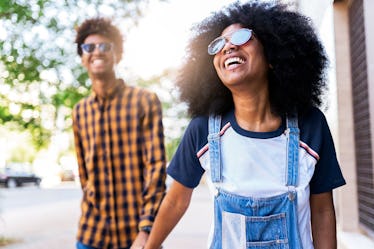 This Is Everything Science Discovered About Sex & Relationships In 2018, So Throw On Your Lab Coat
I'll admit it: I was known to doodle in the back of chem class, and I dipped out of physics whenever I could. Simply put, science has never been my thing — except, however, when it involves the dating realm. With each study that's released, I eagerly read the findings, hoping that I may glean some wisdom from other couples' lives that may impact mine. And what science discovered about sex & relationships in 2018 is nothing short of groundbreaking. The insightful research conducted this year can not only help us understand what behaviors, traits and qualities make for more successful relationships and healthier sex lives, but also which ones could be detrimental.
Indeed, science has revealed so much about relationships and sex over the decades. It has taught us, for example, that single people spend more on dating than those in relationships do. It has also uncovered which occupations are most popular on dating apps (spoiler alert: nurse, dentist, and photographer get the most right swipes for women, while interior designer, pilot, and physician's assistant are the most attractive when it comes to men). We've also learned that porn viewing can have a negative effect on relationship satisfaction for men.
As they say, knowledge is power. Here are some of the most profound findings science offered up in the realm of dating, relationships, and sex over 2018.