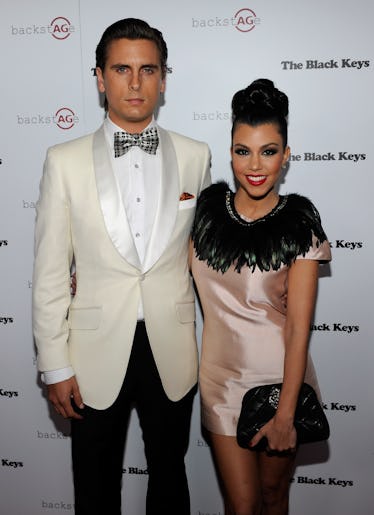 These Throwback Photos Of Kourtney Kardashian & Scott Disick Will Make You Miss Them
Ethan Miller/Getty Images Entertainment/Getty Images
Look, I know that we're all having a rough go of things now that Kourtney Kardashian and Younes Bendjima have called it quits. It's sad when any couple decides to separate, but hey, it happens. And when a relationship ends, sometimes it's nice to reminisce about past relationships. Take Kourtney Kardashian and Scott Disick, who were together for what felt like an eternity, and share three beautiful children together. While it doesn't look like they'll be getting back together anytime soon (Disick is still going strong with his girlfriend Sofia Richie), it's still fun to think about what could have been. And these throwback photos of Kourtney Kardashian and Scott Disick will make you feel things, I promise you.
But if you're wondering why, exactly, these two aren't meant for each other at the moment, a report from Us Weekly on Aug. 8 might help give you some clarity.
"Nothing with Scott is rumored or even remotely on the horizon at all, so while people will inevitably try to spin it and say he'll try and get back with her, they aren't going to," a source told the publication after rumors circulated that he may try to get back with Kourtney. The source added that "he and Sofia [Richie] are happy where they are now and they're simply doing their own thing. And Scott and Kourtney are co-parenting their kids as they have been with great success." Elite Daily has reached out to both Kardashian and Disick's teams regarding this report, but did not hear back by the time of publication.
It might be a bummer to hear that, but if the pair is doing a great job raising their children the way they currently are, why try to fix something that ain't broke?
But the source also acknowledges that the pair is content with the way their relationship is now, and that they will do everything in their children's best interest. The source said:
Scott will always love and be there for Kourtney and is just happy that they are on good terms for the sake of their kids. He has Sofia and doesn't want to be bothered with any drama.
Understandable! But that doesn't stop me from wanting to take a little walk down memory lane to smile at the love that Kourtney and Scott shared, so without further adieu, let me present you with a little collection of snapshots of one of the most interesting relationships to ever grace Keeping Up With The Kardashians.
November 2013: Let's start things off nice and easy. This one might be too close for comfort, but IDGAF:
January 2014: This one will make you tear up for sure, I can almost guarantee it:
March 2014: OK, let's kick things up a notch. Perhaps I could interest you in an old-school selfie?:
April 2014: If a selfie won't work, what about a throwback that Kourtney stumbled upon back in 2014?:
Crazy in love, indeed.
April 2014: Can we just admire Kourtney and Scott looking like the most casual and coolest couple ever?:
April 2014: And this oldie makes me consider getting bangs again:
And then I remember that I will never look like Kourtney Kardashian, so I just keep it movin'.
August 2014: What about this gem? Doesn't Scott look so ~pensive~ and Kourtney looks so very Devil Wears Prada?:
January 2015: Car selfies are like, so clutch when you're a Kardashian:
January 2017: And finally, here they are looking like a couple of bosses together, despite being broken up for years at this point:
Kourtney and Scott, I don't know how you do it, but I commend you. I could keep looking at pictures of you guys for the next week, but I feel like it's time for me to move on.
Thanks for the memories, you guys.