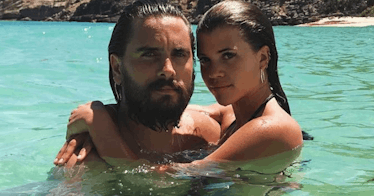 Scott Disick & Sofia Richie Are Reportedly Taking A Huge Step Forward In Their Relationship
Instagram/SofiaRichie
Look, it's not my job to tell Sofia Richie or Scott Disick how to live their lives. However, it is my actual job to provide some sort of generalized commentary and theorization on their decisions and regurgitate it out onto the internet in an accessible, conversational manner. So, in that spirit... What in the holy heck is going on here? Scott Disick and Sofia Richie are reportedly moving in together, according to a new report from Us Weekly. Elite Daily reached out to Richie and Disick's teams for comment on the rumors, but did not hear back by the time of publication. Now, I just have a few questions for these lovebirds. Guys, are you sure? Are you ready? Is your intention to be together forever? Sofia, are you prepared to co-parent those kids? Scott, does Kourtney know? What does your house look like? Is Richie old enough to co-sign on the lease? Is that how leases work? Wait a second, DID YOU GUYS BUY A HOUSE?
I don't understand.
*Eats peanut butter straight from the jar in my studio apartment.*
According to new reports, Richie and Disick have decided to make the domestic leap and are preparing to move in together. A source told US Weekly Richie is planning on moving into Disick's home, so that answers at least some of my questions. The source claims, "Scott and Sofia are moving in together. She'll move into his house." K.
All of this commotion comes not too long after Disick was seemingly spotted canoodling with a different woman at Kanye West's new album party in Wyoming late this spring. At the time, word on the street was Richie had had enough and called things off with her much older boyfriend. A source to E! News:
Sofia broke up with Scott after the pictures and rumors of his behavior in Wyoming were floating around. She couldn't take it anymore. Scott has been off the rails recently and is not in a good place. He goes in waves of partying really hard and then will have his good days and it's just very toxic behavior. It's very up and down … Her dad got to her and was a major influence. He told her enough is enough and she deserves better than this. He told her to come home and she did.
Elite Daily reached out previously to Disick and Richie's teams regarding the cheating rumors and reports of a breakup, but did not hear back by the time of publication.
However, that was one rumor both Disick and Richie called "false!" on when they heard it was going around. Disick shared a picture of TMZ's report that the couple was still together with the caption: "We had no idea we even broke up but thanks for thinking of us."
Richie doubled-down on this sentiment by sharing her own cuddling pic of her and Disick. In her image, she's totally engulfed in his arms on his lap and she captioned her photo "Whole [heart]."
Some people seem to think Richie is wearing rose-colored glasses and can't see Disick for his true no-good ways. After the album party, one source told E! News Disick is great at convincing Richie he's the one for her. The source said, "Scott begged for her back and wanted to make things right with her. He felt bad that he had a drunken episode and made many promises to Sofia that he could make it right. Scott is very good at convincing that he 'has changed' or 'will change' and Sofia does love him. She believes in him." Elite Daily reached out to Disick and Richie's teams for comment on the reports, but did not hear back by the time of publication.
So that questions that remain are: Does she have a say in decorating? Does she get her own closet? Can I come over for dinner just to, like, look around?
Check out the entire Gen Why series and other videos on Facebook and the Bustle app across Apple TV, Roku, and Amazon Fire TV.