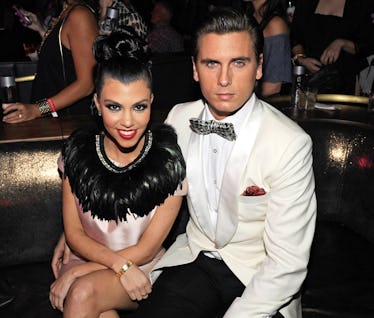 Kourtney K's Latest Comments On Her Relationship With Scott Disick Are So Mature
Ethan Miller/Getty Images Entertainment/Getty Images
I always find it so moving when ex-lovers are able to move past whatever turmoil they might've encountered while they were together and have a healthy relationship — especially when kids are involved. That's why I'm over here clapping for Kourtney Kardashian and Scott Disick. If you haven't heard, the mother-of-three recently opened up about her bond with her ex-boyfriend, and Kourtney Kardashian's comments on her relationship with Scott Disick are super mature.
Kardashian and Disick parted ways three years ago in 2015 after spending nine years together, and they have both gone on to find love with someone else: Kardashian with Balmain model, Younes Bendjima, and Disick with model and socialite, Sofia Richie. But no matter how much time passes or who they move on with, Disick will apparently always be considered a part of Kardashian's family.
The reality star opened up about her relationship with the 35-year-old to People on Aug. 2, telling the outlet that she and Disick try to keep things friendly for the sake of their three children: sons Mason Dash, 8, and Reign Aston, 3, and daughter Penelope, 6.
"I think Scott will always be family, and so we really try to have a good relationship for the kids," she explained.
She also told People that viewers of Keeping Up Will The Kardashians (KUWTK) will see how Kardashian and Disick's relationships with Bendjima and Richie, respectively, have impacted their co-parenting efforts.
"I think you'll see that on the season a bit, but you know we really do our best to make the kids the priority," she said.
Hmm, sounds like things are a little fuzzy here when it comes to their new flames, IMO, which isn't exactly shocking given some of the reports to emerge in recent months. For example, in an episode of KUWTK that aired in late 2017, Disick seemed pretty miserable over Kardashian's relationship with Bendjima. While chatting with Kardashian's sister, Kim Kardashian West, Disick revealed he couldn't find anyone to make him happy and expressed his fears that Kourt's new beau might take his spot in the family. He eventually got over his fit about the budding relationship and moved on with Richie, but a source told People that Kardashian's initial reaction "was not positive." The insider added, "Like most people, she thinks Sofia is way too young for him and doesn't get it."
Still, "he has very much shaped up in the past few months," the insider concluded. "Kourtney is happy Scott is doing better."
Disick truly does appear to be doing better: he recently revealed he's gearing up to release a house-flipping reality show of his own on the E! network, set to air some time in 2019, and Kardashian apparently couldn't be happier for him. She told People:
I'm excited! I think that he's great at that; it's always been a passion of his. He puts his own spin on the houses, so I think it's amazing. I can't wait to see it.
Clearly, these two have a bond that's a work in progress, but they appear to be on the right track, and I'll always give it up for that.