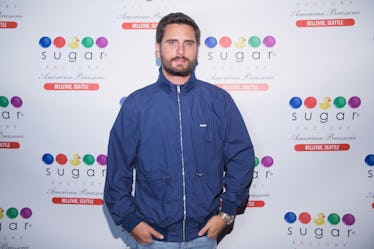 Scott Disick Is Getting His Own Show & I Can't Wait To Watch It
Mat Hayward/Getty Images Entertainment/Getty Images
Practically everyone in the Kardashian family has had their own spinoff of Keeping Up With The Kardashians, with the exception of Scott Disick. OK, so he might not be an actual member of the fam, but after spending nearly 10 years with Kourtney — and having three kids with her — it's safe to say he qualifies as an honorary Kardashian. Besides, he makes really good TV! I mean, who could ever forget about the times he hilariously trolled Kris Jenner with that whole Todd Kraines prank? Or all of his witty one-liners that have kept us laughing since Season 1? He's certainly been a fan favorite over the years, which is why you might be pleased to know that he's finally got his own feature series in the works. However, Scott Disick's new show will feature him in a way that you've never seen before, so get ready to flip out.
In a recent interview with People magazine, Disick revealed that he's gearing up to release a house-flipping reality show on the E! network, set to air some time in 2019. "It will probably come out next year, and it's basically about me doing things that I'm interested in, which is buying and selling properties," he explained to the outlet during a night out in Las Vegas.
Apparently, the 35-year-old has been working in the real estate biz for a while, but he hasn't really promoted it much. He continued, "I guess it's cool that people will be able to see something that's a little bit different, and it's cool for me because it's something I'm passionate about."
Wow, I'm, like, legit impressed at this. We've always seen Disick's life play out in relation to the Kardashians, but I'm super stoked to see a show that's centered on him and his personal pursuits.
Also relevant again? That time Disick did some topless DIY work around his and Kourt's home back in 2012. Although he was, admittedly, channeling his inner Ryan Gosling to recreate a scene from the 39-year-old's favorite movie, The Notebook, to impress her, it now looks like he was actually on to something...
Anyway, it's still pretty unclear as to what'll exactly be covered on the show, but I hope that we might be getting a closer look at his relationship with Sofia Richie. The two have been dating since the summer of 2017, and recently made plans to reportedly move in together. IDK if he wants to keep his relationship out of the spotlight this time or not, but it'll certainly be cool to see them searching for cute little knick-knacks and other home decor that suits both of their personal styles once they're settling in. And it fits into the concept behind his show perfectly (*wink, wink*).
This isn't his first time dabbling in home-renovation television, Disick previously had a show, titled Royally Flipped, in the works in 2017. However, executives reportedly pulled the plug on it because it was too "boring" with only Disick and his two buddies. So, adding Richie to the mix could certainly be worth while. Just sayin'.
Whatever he decides to do, I'm gonna be there, anticipating all of his outlandish antics and one-liners just like before. Glad to have ya back, Disick!