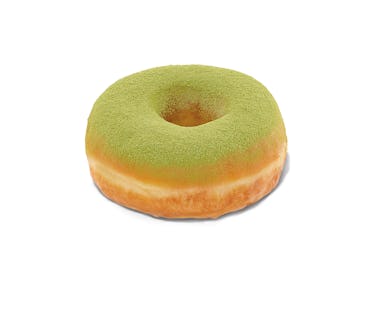 Dunkin' Is Selling An Instagram-Worthy Green Matcha Donut For St. Patrick's Day
Courtesy of Dunkin'
If you're looking for a different kind of green treat for St. Patrick's Day, Dunkin' has you covered. While the chain's typical holiday offerings feature cute sprinkles and colorful icing, Dunkin's St. Patrick's Day 2021 donut is an elegant twist on its usual shamrock fare. The doughy bite is an unexpected combo — sweet sugar and a dusting of matcha.
Dunkin is bringing a sweet green treat for St. Patty's Day on Wednesday, March 17, but instead of mini shamrock sprinkles, the main event is matcha flavor. While Dunkin's new Matcha Topped Donut has a simple facade, the bite packs a punch with a signature Glazed Donut and a dusting of matcha powder for a balance of green tea flavor and classic sugary glaze. You can score the St. Patty's offering for $1.19 at Dunkin' locations nationwide, along with the new Blueberry Matcha Latte.
If you were looking forward to a flashier holiday doughnut, don't fret. Select Dunkin' locations may be selling other St. Patty's Day-themed donuts, as well as the Matcha Topped bite. It's unclear what these options could be, but going off of its shamrock-themed donut in 2020, you may expect bright green icing and festive sprinkles. Since not all stores are offering other choices, you'll need to check with your local Dunkin' to see if its offering any other special bites.
There's also a festive option for those who want to pair their doughnut with a coffee, because Dunkin' brought back its Irish Creme flavored coffee. Available at participating locations nationwide for a limited time, the Irish Creme flavor combines notes of sweet creme, vanilla, and Irish Creme whiskey into one smooth sip. Dunkin's fan-favorite Irish Creme Coffee first debuted in 2013, returned in 2014, and then went on a five-year hiatus until the company brought it back for 2019. You can enjoy the sip in hot, iced, and frozen coffees, or add it to any handcrafted espresso sip. You can also upgrade Dunkin's new Cold Brew with Sweet Cold Foam with some Irish Creme.
If you're heading to Dunkin' for a St. Pat's treat, you may want to order curbside pickup, drive thru, or delivery per the coronavirus safety guidelines from the Centers for Disease Control and Prevention (CDC) for deliveries and takeout as of Dec. 31. If you get your order in-person, make sure to wear a mask at all times, practice social distancing, and wash or sanitize your hands after leaving the store and before biting into your doughnut.
If you think you're showing symptoms of coronavirus, which include fever, shortness of breath, and cough, call your doctor before going to get tested. If you're anxious about the virus's spread in your community, visit the CDC for up-to-date information and resources, or seek out mental health support. You can find all of Elite Daily's coverage of coronavirus here.