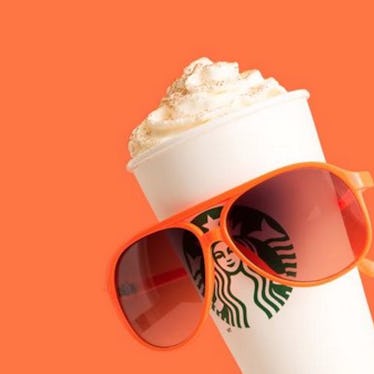 Pumpkin Spice Latte Halloween Costumes To Celebrate Your Fave Fall Drink
What captures hearts this time of year more than the Pumpkin Spice Latte? Beginning in late August, Starbucks completely hooks customers on the drink's cinnamon-nutmeg perfection. Thanks to everyone's unending love for the fan favorite, DIY Pumpkin Spice Latte Halloween costumes have become all the rage — and understandably so.
First thing's first, before anyone channels their favorite coffee order, they have to meet the PSL in the foam. That's right folks — he's real, he's here, and he's ready to dish on all-things autumn. This is not a drill.
In conversation with Elite Daily, the PSL — with his adorable lil whipped cream 'do and orange wayfarers — gave the lowdown on why exactly he is so lovable. Truthfully, he's definitely hard to resist. With pick-up lines like this, how can anyone possibly say no?
My advice — make me yours. I have everything you need! Real pumpkin + smooth espresso? That's me. Perfectly steamed milk and warm fall spices? Got you covered. I love all my pumpkin spice bebes. You do you. I do I. We do we.
There it is, folks: No one needs any further convincing that October means all-pumpkin everything. The online search for the perfect Halloween costume has come to a close. This year, you're 100 percent going to win the costume contest by dressing up as everyone's go-to treat.
Without further ado, here's a glimpse at our favorite fella.
Now that everyone's been introduced to the cute and stylish PSL, here's how to channel this bad boy for Halloween.
Option 1: Get a pumpkiny pair of shades.
Lazy Halloween partygoers can opt for a subtle tribute to the PSL: his orange wayfarers. It's simple, it's chic, and it's his signature look. How can partygoers possibly resist? Even this adorable pup is ready to rock the look. Party City has several orange sunglasses for $5, but for those looking for a serious commitment — and to wear the shades year-round — grab a pair of orange wayfarers from Ray-Ban for $185.
Option 2: Dress like a latte — but add an orange kick.
Find a beige-like dress, a white boa for your foam, and print out the green iconic Starbucks log. Voila! The latte order is in... but it still needs a pumpkin kick. That's when partygoers can either throw on those orange shades, add an orange hairpiece, or even write "PSL" somewhere on their costume. Obviously, it goes without saying that a PSL is a much-needed prop for this (and all) costumes. White boas are available at Party City for $9.99 and H&M sells basic beige dresses for $17.99 and black tights for $9.99.
Option 3: Find a graphic tee.
Pumpkin spice and everything nice has certainly made a fashion statement. For those who don't want to necessarily look like a latte but want to show their love for their morning breakfast order, a graphic tee like this is the way to go. Head to Pink Lily for gems like the "Pumpkin Spice Everything" graphic tee for $26.
Option 4: Suit up.
Yes, orange suits exist... just ask Lloyd Christmas (they're available at Party City for $59.99). Now, this is option is really taking the look to new levels. Of course, those who opt for this costume need to make sure their prop (a PSL) is in hand so people don't mistake them for Lloyd.
Option 5: Accessorize accordingly.
Naturally, since it's October, coming across something orange is not a terribly difficult feat. Grab an orange mask or wig (and again, a PSL) and get ready to par-tay. Party City has wallet-friendly options starting at 99 cents and ranging to $3.99, among other options.
Now that the costume situation is settled, here's how to throw a ghoulishly good bash.
No party is complete without a few festive drinks, so enjoy a few boozy takes on the PSL (if you're 21+) including, the Magical Martini, the Pumpkin Spice Hottail, and the Pumpkin Smash. In need of a conversation starter? Grab that Pumpkin Smash, lower the lights, and start chatting about spooky stories with friends to take the Halloween party to new heights. Need a little light during story time? Opt for these PSL candles — just hope that spirits don't blow them out in the middle of the scary chat.
Happy Halloween!
Check out the entire Gen Why series and other videos on Facebook and the Bustle app across Apple TV, Roku, and Amazon Fire TV.