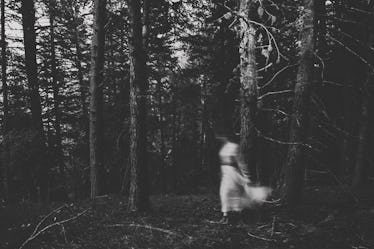 6 Scariest True Ghost Stories Of All Time, In Case You Didn't Want To Sleep Tonight
There are a lot of ghost stories out there, especially around Halloween. When people tell these stories, as you may have noticed, they often start out by saying things like, "Apparently there's this haunted house in town," or, "My Grandpa Chuck told me this ghost story once." They're almost never, like, actual, real-deal, first-hand accounts. But let's be honest, it's the tales that actually happened to you or people you know that are the scariest true ghost stories of all time, because those other, heard-it-through-the-grapevine stories can be much more easily chalked up to a wild imagination.
Now, full disclosure, I'm pretty sure I've had at least one ghostly encounter myself. I'll never be sure, of course, but when I lived in an apartment in Greenpoint, Brooklyn, I had a variety of experiences that kind of all pointed toward the conclusion that there was a mother freaking ghost in my home. I'm talking major skin chills, mysteriously moved objects, dropped calls, and flickering lights in response to questions. I even named the ghost Elliot.
While the ghostly presence didn't feel dangerous, it definitely frightened me. Eventually, at the suggestion of my more spiritually inclined friends, I asked him to leave — and he seemed to listen.
Take a look at some others who have some really scary ghost stories, that all actually happened to them.