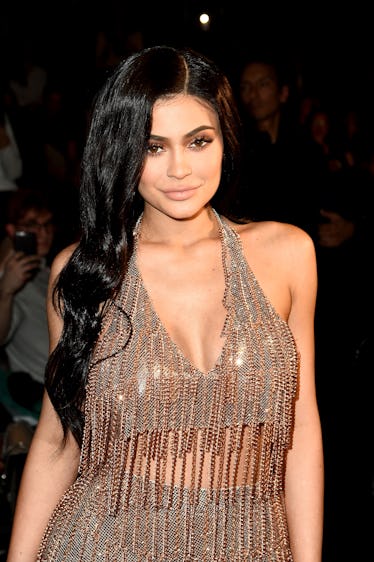 There's A Rumor About The Name Of Kylie Jenner's Baby & Fans Are Obsessed With It – UPDATE
Nicholas Hunt/Getty Images Entertainment/Getty Images
I swear to God, Kylie Jenner is ruining my life... in the best way possible, of course. On Friday, Jan. 12, Twitter BLEW UP with rumors that the Life Of Kylie star was in labor at Cedars-Sinai Hospital in Los Angeles even though nothing was confirmed by the Kardashian/Jenner family. Elite Daily reached out to Jenner's team for comment, but didn't hear back at the time of publication. To put things simply: So far, we know nothing. NADA. ZILCH. All we really know is there are rumors circulating that Kylie Jenner will name her baby Storm, and TBH, I'm feeling it.
UPDATE 2: On Tuesday, Feb. 6, Kylie Jenner announced on Instagram that her daughter's name is Stormi. The photo showed Stormi holding Jenner's finger and with the caption "Stormi" and an angel emoji.
UPDATE 1: On Sunday, Feb. 4, Kylie Jenner confirmed her pregnancy in an Instagram post. She welcomed a daughter on Thursday, Feb. 1.
EARLIER: All these rumors started when a screenshot of a text conversation between two friends went viral on Twitter. In the texts, you can see messages being sent saying things like, "Kylie is in labor" and "my friends friends sister is working in the hospital where she is." Fans on Twitter, obviously, took the receipts and ran. Shortly after, TMZ debunked the rumors and said sources close to Kylie Jenner and Travis Scott say the star isn't even due this month. PARTY POOPERS. The one question I still have is WHO THE F IS THIS FRIEND'S FRIEND'S SISTER? LET ME AT 'EM. I'm serious.
The second question I have is where the hell did these rumors Kylie is naming her baby "Storm" come from? Perhaps people got confused with the drama surrounding President Donald Trump... REGARDLESS, Twitter is starting to flood with fans freaking out over Jenner's reported name choice. Honestly? I'm here for it.
Storm Jenner. Rolls off the tongue, doesn't it? The best part is there are rumors Kylie's baby will go by the nickname "Stormie." LOL, I LOVE THE INTERNET.
It's becoming tradition for the Kardashians to give their babies one syllable names (North, Saint, Dream, Reign), so the name "Storm" really wouldn't be too shocking. It's actually kind of badass. On top of that, Kim K usually calls North "Northie," so I guess that's where Stormie checks in. PS. IT'S "STORMIE," NOT "STORMY." GET YOUR FACTS IN ORDER, BREANNE. GOD.
There are several conspiracy theories surrounding Kylie Jenner's reported pregnancy, so I think we can add "Storm Jenner" to the list. First, fans were convinced Jenner would confirm her pregnancy during the Kardashian Christmas cards in December. LMAO, that was a fun one. Did anyone else interrupt Grandma's Christmas prayers at the dinner table to check Kylie's Insta? Sorry, Grandma. Your blessings were beautiful.
There's another theory resurfacing on Twitter that Kylie Jenner is actually Kim Kardashian's surrogate. YEAH, LOL. I'll give you a sec to process that one. Kim Kardashian's surrogate's due date is reportedly sooner than we think, so that's why everyone was losing it on Twitter. Once rumors hit that Kylie was at the hospital, fans put two and two together — or at least thought they were.
A source originally told Us Weekly, "Kim's surrogate is due before Christmas," but obviously that wasn't the case. That's why fans have been glued to their phones pretty much every day of January waiting for Kim and Kanye's beautiful bundle of joy to arrive.
As of now, Kim K's surrogate is reportedly having her baby in January, Kylie Jenner is reportedly having her baby in February, and Khloé Kardashian's due date will be closer to April/May. Yup, the Kardashians are taking over 2018! GONNA BE A GREAT YEAR.
So, folks, hang tight as we wait and see what happens this weekend. Will Kylie Jenner confirm her pregnancy? Will she give birth? Will Kim K post selfies with a newborn on Snapchat? Hopefully, they'll share some more clues on social media soon so we can find out.