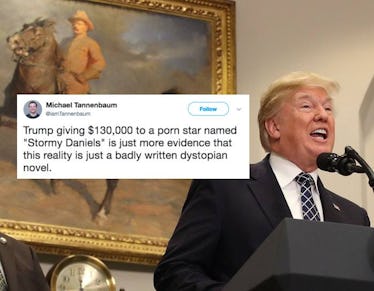 Trump's Lawyer Allegedly Paid A Porn Star For Silence On Trump & Twitter Is A Mess
Mark Wilson/Getty Images News/Getty Images
On Friday, Jan. 12, The Wall Street Journal reported that Donald Trump's lawyer, Michael Cohen, allegedly paid porn star Stormy Daniels, real name Stephanie Clifford, $130,000 in exchange for silence about her encounter with Trump before the 2016 presidential election, according to unnamed sources. And as no surprise to anyone, Twitter is lit with reactions to this latest report, and the tweets about Trump and Stormy Daniels' alleged settlement are absolutely ruthless.
Cohen, formerly a lawyer for the Trump Organization, told The Wall Street Journal that Trump "vehemently denies" the interaction, continuing, "This is now the second time that you are raising outlandish allegations against my client. You have attempted to perpetuate this false narrative for over a year; a narrative that has been consistently denied by all parties since at least 2011." The lawyer declined to comment specifically on the reported payment of $130,000 to Clifford.
White House officials also refused to comment regarding the payment, but told The Wall Street Journal that the reports regarding any interaction between Clifford and Trump are "old, recycled reports, which were published and strongly denied prior to the election."
Clifford said in a statement obtained by BuzzFeed that any claim of an affair with Trump "is absolutely false" and that rumors of "hush money from Donald Trump are completely false."
Regardless of the veracity of this report, Twitter is absolutely wrecked over it, with many commenting on its curious timing in conjunction with Trump's reported comments on immigration yesterday. Seriously, no one's holding back.
According to The Hill, in response to the reports regarding Trump and Clifford, Cohen also sent a physical copy of a statement that denies any truth to reports of both a sexual interaction between Trump and Clifford and a settlement for silence between the two. The statement was reportedly signed by "Stormy Daniels." Clifford and her lawyers have declined to comment directly on the latest reports.
Payment to Clifford was reportedly made via a "client-trust account" belonging to her lawyer, according to The Hill, though a spokesperson from the bank housing the account refused to provide a statement on the matter.
This latest report comes just a day after Trump reportedly made awful comments regarding immigrants from certain countries. According to The New York Times, in a meeting regarding plans to aid immigrants from countries like Haiti and certain African countries, Trump reportedly made the remark, "Why are we having all these people from sh*thole countries come here?"
Earlier today, Trump denied having said that in a tweet, and Raj Shah, Deputy White House Press Secretary, released the following statement to Twitter regarding Trump's commitment to "fight for the American people."
Certain Washington politicians choose to fight for foreign countries, but President Trump will always fight for the American people. The president will only accept an immigration deal that adequately addresses the visa lottery system and chain migration — two programs that hurt our economy and allow terrorists into our country. Like other nations that have merit-based immigration, President Trump is fighting for permanent solutions that make our country stronger by welcoming those who can contribute to our society, grow our economy and assimilate into our great nation. He will always reject temporary, weak and dangerous stopgap measures that threaten the lives of hardworking Americans, and undercut immigrants who seek a better life in the United States through a legal pathway.
A White House official also reportedly told CNN that Trump's "sh*thole" comment probably won't hurt him as badly as people might think. OK.
The President's 'sh*thole' remark is being received much differently inside of the White House than it is outside of it. Though this might enrage Washington, staffers predict the comment will resonate with his base, much like his attacks on NFL players who kneel during the National Anthem did not alienate it.
So, I guess TBD regarding how these latest reports fare for his image. All I have to say is, Oprah wouldn't do us like this.