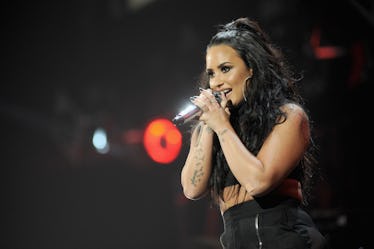 Demi Lovato Unveiled Her New Blonde Hair On Instagram & It's So, So Cool For The Summer
Timothy Hiatt/Getty Images Entertainment/Getty Images
Over the years, Demi Lovato has been no stranger to changing up her look — let's just say, she said goodbye to her Camp Rock-era bangs long, long ago. As a major Lovatic, I love seeing her try out and look amazing in a variety of looks, but I'll always consider dark, almost-black brown locks to be her signature style. So when I heard about Demi Lovato's new blonde hair, I was excited to see the change.
If you're lucky enough to be as ~blessed~ as Demi is with her good looks #confidence, being able to rock a ton of different looks can come easily. She wasn't famous for long before deciding to play around with her naturally dark hair and fair complexion, and she's tried everything from ombré extensions and a good spray tan to bright blue hair way back in 2013. She even proved that celebs can rock a semi-shaved look. It's true, I'm a fan of her, but even the most objective party can admit that the girl completely masters every look she takes on. Lovato is the ultimate hair color chameleon, no wigs necessary.
2008 Demi rocked her naturally dark brown hair, plus the side bangs I tried to immitate but could never get looking so fluffy:
2009 brought on Demi's rocker phase, featuring jet-black hair and more defined brows. Side bang still intact, thank goodness:
In 2010, we met sun-kissed Demi, and I debated my first spray tan as a result:
Fast forward to 2013, where Demi tries out full blonde with dark roots, and completely owns it:
Already bleached, she then decides to serve us a teal ombré fantasy:
After realizing how much she enjoyed her edgier look, she went for a shaggy black bob with a slightly shaved side in 2014:
By 2016, Demi was still rocking a dark lob, but a much more refined one:
Then, in 2017, the queen decided she was over short hair and graced us with dark, middle-parted extensions:
Most recently, however, our girl has gone back to the lob life and kept her signature dark locks in most of 2018:
It might seem like a lot of change, but Lovato's been in the industry for years, and in fact, there were even more colorful ombrés and cuts in between the above looks. And while she has gone blonde before (see 2013), I admit to assuming that, by now, she'd settled on dark, edgy hair as her "thing."
So when she posted a sneak peek of her new look on her Instagram Story featuring a warm blonde melt, I was totally caught off guard... but also, kind of obsessed?
My immediate reaction:
According to Allure, the hair genius behind Lovato's new blonde color is none other than Amber Maynard, a colorist at Nine Zero One Salon in Los Angeles, California. Maynard told Allure that the hair transformation took two days, and she and her team co-colored to speed up the lifting process. She mentions that this dramatic a change would normally require multiple trips to the salon — but if you're a celeb who can have a whole team working on you at once, why not go for it?
Maynard says the process was sparked by Lovato's desire to make a change, which makes sense since she's been through a lot this year. She recently released a song called "Sober," in which she alludes to a relapse after six years of sobriety. Maybe a change to her appearance is symbolic of an internal shift as well? "Demi's had dark hair for a long time," Maynard said. "We thought what better way to switch it up than to go lighter and add extensions for length?"
Maynard was also specific about the products she used to achieve the perfect, soft blonde moment. "We started the process by using Joico Color Intensity Eraser and then highlighted using Joico Blonde Life," she says. She also told Allure that the top of the hair is a touch darker, for a perfectly blended look: "I custom-formulated her root shadow and toned with Joico Lumishine Demi-Permanent Liquid Color."
Personally, I can't wait for a full photo of Lovato with her new 'do, and the sneak peek tells me it will be one of her best looks so far. Part of me hopes the blonde is here to stay for a while, but another part of me knows she isn't one to keep a look for long, so I'm even more excited for what's next.