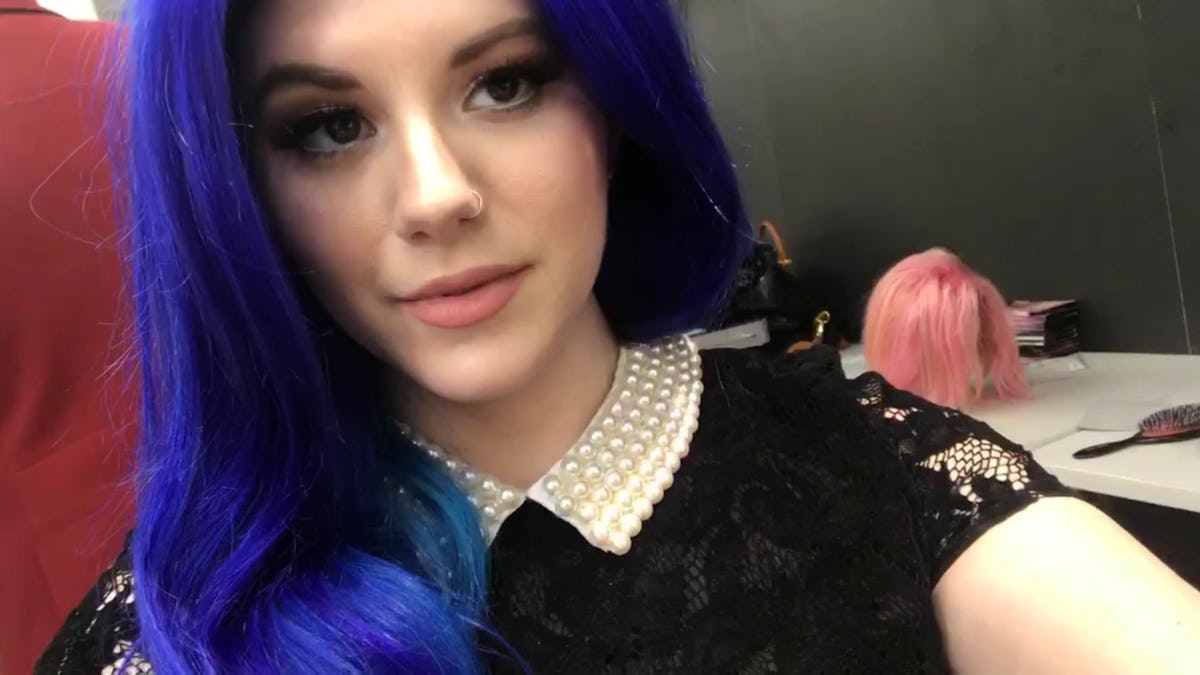 Wella's New Vivid Hair "Paint" Lasts For 20 Washes & Costs Less Than A Smoothie
Kim Carpluk
I'm the kinda girl that never looks the same twice. That means, over the years, I've sported platinum hair, black hair, purple hair, red hair, blue hair, and pink hair. If you have the same chameleon-like tendencies, then the Wella Charm Paints temporary hair color will technicolor your world without all the damage and commitment. So feel free to change your vivid hue on a whim. Now you can paint (your hair) with all the colors of the wind.
Way back when, if you wanted to dye your hair a vivid Lisa Frank-esque color, you had to use Manic Panic, Splat, or visit a hairstylist at an expensive salon to achieve the unicorn hair of your dreams. If you wanted the salon-quality dye, you had to actually work in a salon. You couldn't just waltz into your local CVS and nab some Wella hair dye.
As hair dye technology advances, so does the availability of the product. When brands don't have to worry that their more inexperienced clientele (aka me) will accidentally burn all of their hair off (which I have done before), they feel more comfortable releasing new formulations to the general population. Thanks to the advanced dye technology, Wella's new Color Charm Paints are semi-permanent, so use and abuse them without fear of damaging your hair.
Each hue in the range of 15 shades is inspired by objects from everyday life. So if you ever wanted to dye your hair red to match your favorite lipstick or yellow to match your favorite fruit (like a banana, of course), now you can.
The Wella Color Charm Paints mimic tubes of acrylic paint, and they act like them, too. Normally, when you mix different colors of dye (as an untrained hair color enthusiast), you're risking the color coming out muddy. Some vibrant, aka "fantasy color," dyes just don't play nicely together.
However, the new Wella Color Charm Paints are specifically formulated for you to mix and match them to create new, vibrant hues. You can even use the Wella Pastelizer to make your color more, well, pastel. Seriously, the only limit is your imagination.
With some vibrant hair dyes, you have to utilize foils to keep different hues separate while the hair is processing. With the new Paints, no foils are necessary.
That means, if you're dying your hair 50 shades of gray, blue, and purple at home, you don't have to worry about pulling a muscle as you attempt to place a foil at the nape of your neck.
I just tried the new hygge hair trend and dyed my hair two days ago, so I wasn't necessarily up for embracing a brighter hue right at this very moment. However, I did get to try out a vibrant, Katy-Perry-circa-"California-Girls" shade of vivid blue with the help of Gabriel Samra, a celebrity hairstylist, Wella spokesperson, and absolute sweetheart.
After Samra helped me choose which technicolor wig to try on, he styled it to perfection and left me feeling like a literal superhero. Seriously, vivid dyes always transform my personality and make me feel like I've jumped right out of the pages of a comic book.
If I hadn't just dyed my hair, I'd be extremely tempted by this new blue hue.
Samra did remind me that, like all vivid dyes, the Paints will show up more vibrantly on blonde hair. The lighter the hair, the more saturated the dye will be. So if you have hair that's naturally darker than a medium blonde tone, he suggests lightening the hair for a more visible and impactful result.
After your hair has been lifted (or if you have naturally lighter hair), simply apply as desired straight from the tube (no need to mix with developer), leave on for 20 minutes, rinse, and embrace the inner unicorn that you've always longed to be.
The Wella Color Charm Paints ($7; sallybeauty.com) are available now on Sally Beauty's website, so prepare to color your world.