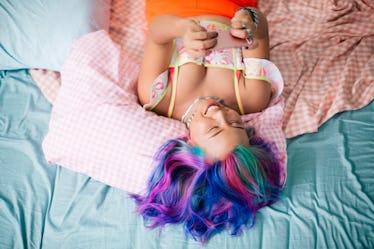 7 Halloween Wigs On Amazon That Are Perfect For Any Mystical Creature Costume
Halloween is upon us, and if you're like me, you cannot wait to dress up. Since I was young, the best part of this season was shopping for my costume. For many years, the Disney Store was the place to be this time of year, and as I grew out of those costumes, pop-up Halloween shops were lit. I love horror movies, and going through all of those props and colorful wigs gave me so many thrills. If you're all about wearing a costume with a vibrant wig this year, we've compiled a list of Halloween wigs on Amazon to complete your look.
A problem, though, is that there are so many choices as far as Halloween costumes are concerned. Some of the first existential crises I had growing up revolved around whether I was going to be a princess or a zombie prom queen. And then, you have to focus on getting the perfect accessories. Besides your trick-or-treat bag, you need the makeup, the gore pieces, and fake teeth (if your character calls for it). But one item that takes a costume from just that to a memorable one is, truly, the wig.
One of the best places to shop for a hairpiece if you're tight on time or have a budget (because we all do), is Amazon. And they have an almost never-ending supply of wigs to choose from. Wigs also are great costume starters; once you have the perfect wig, it's really easy to create a costume from there. Below are some mystical creatures that will rock your Instagram out of the park.