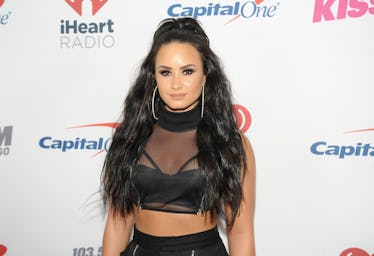 How Demi Lovato Reportedly Felt After Relapsing Will Make You Happy She's Doing Better Now
Timothy Hiatt/Getty Images Entertainment/Getty Images
Details are starting to emerge about how Demi Lovato is handling her recent relapse. And honestly, they're so much more positive than a lot of people had in mind. In a new report from Us Weekly, a source close to Lovato revealed that the 25-year-old singer is "back on track" and doing great. But that doesn't mean she wasn't feeling as though she let those who loved her down. The insider source revealed to Us Weekly exactly how Demi Lovato felt after relapsing. Elite Daily reached out to Lovato's team for comment on this story, but has not heard back at the time of publication.
Lovato was sober for a full six years before revealing to family, friends, and fans that she had relapsed. The revelation came via a song she aptly titled "Sober" and the lyrics were super emotional:
Mama, I'm so sorry I'm not sober anymore / And daddy please forgive me for the drinks spilled on the floor / And I'm sorry for the fans I lost who watched me fall again / I wanna be a role model, but I'm only human
At the very end of the song, Lovato apologizes to everyone (including herself) for falling off the wagon:
I'm sorry that I'm here again / I promise I'll get help / It wasn't my intention / I'm sorry to myself
According to Us Weekly's source, Lovato felt like she'd let everyone down by reverting back to her old ways:
She honestly felt like she let her fans down and that she owed them the truth.
At the very least, Lovato came clean about what had happened and now she's on the road to recovery. The source explained that Lovato is doing all she can to take good care of herself:
She's going to meetings again, going to the gym and taking care of herself.
Prior to her recent relapse, Lovato sought treatment back in 2011. At the time, she was treated for bipolar disorder, self-harm, and addiction. She relapsed shortly after and then entered a sober living facility for a year. She's reportedly been sober ever since. Until this recent relapse, of course.
Despite the relapse, Lovato seems to be looking toward a brighter and better future. In a show of solidarity and support, Lovato and her close associates recently got a new tattoo of the word "Free" on their pinky fingers.
César DeLeon Ramirez, Lovato's hair stylist, shared a photo of the tattoo as well as the following message:
Everyone deserves to speak their truth! Love is accepting someone for who they are and for who they are not! #free #Spirits
So, Lovato seems to be finding freedom in speaking her truth. But at the same time, she realizes that it can come at a price, so she thanked all the fans who have stuck by her through all of her ups and downs.
In an Instagram post from Wednesday, June 27, Lovato wrote:
To my fans, my family, and my supporters, the ones who never left me, you are my light. I am forever grateful.
She also posted a beautiful video to go along with the message:
During her six years of sobriety, Lovato has often been very vocal about her struggles. And this time is no different. After Lovato performed "Sober" for the first time, she took to Twitter to explain how she was feeling:
Tonight I took the stage, a new person with a new life. Thank you to everyone who has supported me throughout this journey. It will never be forgotten.
So, Lovato is truly feeling the love right now after revealing a really difficult and personal struggle. It seems like she's finding her footing again and looking forward to a fresh start, which is wonderful.