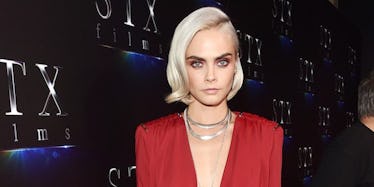 Cara Delevingne Completely Shaved Her Head And Looks Unrecognizable In New Pics
Alberto E. Rodriguez / Getty Images
Cara Delevingne literally shaved all of her hair off and she still looks better than me on my best day.
The model-turned-actress debuted her new look while on set for her upcoming movie "Life In A Year," co-starring Jaden Smith, in which she plays a dying teenager.
In case you forgot, here's a timeline of what her hair has looked like over the years. It keeps getting shorter and shorter over time, so we honestly should have seen this coming.
2016: Long and blonde.
2017: Short and platinum.
Literally last week: Pixie and pastel.
AND NOW: BALD AS HELL.
She really just wants us all to know how committed she is to her acting career, guys. SHE'S COMMITTED, OK? She shaved her head for it!!! Now you can never call her a bad actress because she shaved her head!
Just kidding. No length of hair or lack thereof could have saved "Suicide Squad." Sorry 'bout it!
Before the 24-year-old cut her hair into a pastel pink pixie cut just last week, she was sporting a platinum blonde look with a short cut.
She hinted the change on her Instagram story before revealing the look.
And now I guess she's bald.
Seriously, how does she pull this off so well?! I literally can't put my hair into a slicked-back ponytail without looking like a naked mole-rat.
And you know she's going to rock this for the foreseeable future, too. Cara Delevingne is just one of those people who can pull this off long-term. I have no idea why, but she can. It just works.
Cara hasn't posted any pics of her new look herself just yet. Instead, she's posting pics and videos of her and her dad on a trip to Niagara Falls, and her head is completely covered in all of the posts.
WHAT ARE YOU TRYING TO HIDE, CARA?
Before that, she just posted a picture of a shark.
So, there's that.
Citations: PICTURE EXCLUSIVE: Cara Delevingne undergoes shocking transformation as she shaves her head to play a dying woman for dramatic new role in Life In A Year (Daily Mail)