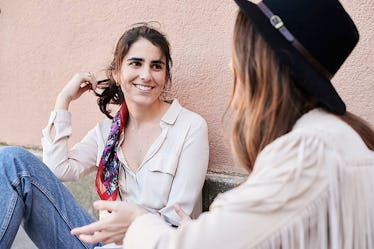 4 Things To Remember If You're Going To Start Dating A Friend's Ex, So There's No Drama
Even though there are almost eight billion people in the world, it's hard to control who you fall for, and sometimes, it can be the most inconvenient person of all: A friend's ex. No matter how long they've been broken up, dating a friend's ex can put you in a sticky situation. Your friendship could mean the world to you, but if you haven't been able to shake the feelings you have for your friend's ex, it might be time to have a conversation.
While you may have heard time and time again that any and all of your friend's exes are off-limits, this rule isn't always one-size-fits-all. The only way to know how your friend will feel is to have an open, honest conversation with them where you express your interest in their ex. You never know — perhaps they'll be incredibly unfazed, and you can pursue their ex without a worry. On the other hand, if they aren't OK with the idea of you and their ex dating, you may have to consider the possible repercussions, and whether or not you're ready to face them. If you can't deny your desire to date your friend's ex, it's important to keep these four things in mind, in order to keep the situation as drama-free as possible.