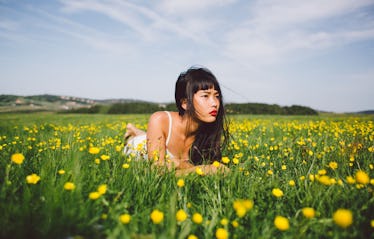 4 Ways To Make Moving On Easier After Being Cheated On, Because It's Not Easy
Being cheated on is hardly a walk in the park. Having your ultimate trust betrayed can make moving forward an extremely tough endeavor. Most of us would probably agree that breakups that don't involve infidelity are challenging enough to work past. Toss in the added pain of knowing that the person you loved chose to be with someone else and you've got the perfect recipe that can make moving on feel almost impossible. The ways to make moving on easier after being cheated on aren't necessarily universal, considering that we all cope with and process traumatizing experiences differently. That being said, there are definitely some things that can make the healing process a little bit easier.
One of the biggest issues that can result from being cheated on by a partner is feeling like you will never be able to let go of the experience enough to fully trust them, or anyone else, again. But you aren't alone — this is a common feeling. The most important thing is to realize that healing takes time. In some cases, a lot of time. Even though it may be tempting to tell yourself that you "should" be over what happened by a certain point, that's just not how it works. In the meantime, here are some tips that can make the road to recovery a little less bumpy.