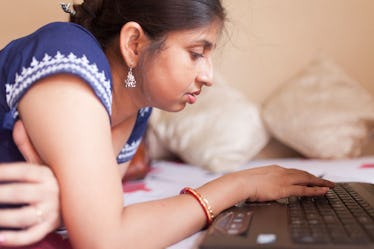 Breaking Up With A Friend Is Rough, But Doing These 5 Little Things Can Make It Easier
Have you ever had to break up with a friend? This happens, and it happens all the time. Whether it's because you two grew apart, or things turned toxic for one reason or another, sometimes friendships have to end. But don't be mistaken: This is not an easy or emotionally comfortable thing to endure. Giving yourself time to find little ways to get over a friendship breakup is really important for your mind and overall well-being.
And listen y'all, the loss of a friend is real and often painful, even if it's for the best. Sometimes you feel these breakups even deeper than the end of a romantic relationship. As Meg Josephson, a licensed clinical social worker based in New York City, tells Elite Daily, "Some people are somewhat dismissive of the physical and emotional distress this kind of loss creates for people."
But the truth is, denying yourself the space, time, and recognition to fully experience your pain and work through it will only prevent healing, says Josephson. While sometimes it sure does feel easier to just hide it all away and keep on truckin', the truth of the matter is, you have to take care of yourself through this potentially vulnerable time. Below, experts have some great tips on simple things you can do to make the break a little softer.