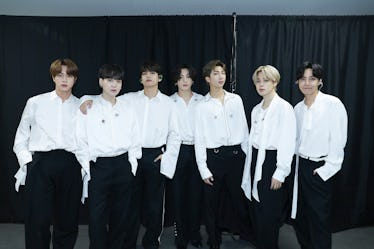 Here's Everything To Know About BTS' New Single "Butter"
AMA2020/Getty Images Entertainment/Getty Images
Following rumors that BTS is making a comeback in May, Big Hit announced on Monday, April 26, the group is dropping a new single called "Butter." Get ready, ARMYs, because it will be here sooner than you know it. To prepare, here's everything you need to know about BTS' "Butter," including its release date, music video, performances, and more.
According to a press release by Big Hit, "Butter" will be BTS' second English single following "Dynamite," which they released in August 2020 and became their first No. 1 Billboard hit. Apparently, the new song will be just as upbeat as "Dynamite" because the agency teased it's a "dance pop track brimming with the smooth yet charismatic charm of BTS." To make things even more exciting, Big Hit predicted "Butter" will be "another summer smash hit." Considering "Dynamite" was all over radio stations and was even nominated for a Grammy, it seems "Butter" will be huge as well.
Comeback rumors surrounding the group first rose when Sports Donga reported on April 4 that BTS had a new single planned for release in May. As it turns out, those rumors were true because "Butter" will be here next month. Here's everything fans need to know about BTS' "Butter" before it arrives.
BTS' "Butter" Release Date
The big question on everyone's minds is when BTS' "Butter" will drop. Good news: Fans will just have to wait a few more weeks because it will release at midnight on Friday, May 21. Big Hit teased the single by sharing its cover art featuring a yellow piece of butter shaped like a heart with a BTS logo on top. "'Butter' will melt its way into the hearts of all ARMY," they also said.
BTS' "Butter" Music Video
Big Hit confirmed on Twitter BTS' "Butter" music video will release along with the single on Friday, May 21.
BTS' "Butter" Teasers
On April 28, Big Hit shared BTS' "Butter" promotional schedule filled with all the teasers about the track fans can expect throughout the month of May. The first was a mysterious concept photo that arrived on Saturday, May 3. The poster featured a series of vintage-looking photographs of things like a party popper, toast with butter, and balloons.
Two days later, fans got some context about the props in the photos through concept videos Big Hit also posted on Twitter. The first clip showed Jungkook spreading butter on toast, while the second showed RM blowing a party popper.
The next two concept videos arrived on May 4. The one Big Hit posted of Jin showed him playing with the yellow smiley face balloons.
Meanwhile, Suga's video had him taking photos with the vintage-looking camera.
BTS' "Butter" Performances
After fans read the Sports Donga report, they were convinced the group's new song would come out just before the 2021 Billboard Music Awards on Sunday, May 23. Now that fans know "Butter" will drop on May 21, it seems more likely than ever BTS will have their debut performance of the track at the BBMAs.
How To Pre-Order BTS' "Butter"
ARMYs can pre-order "Butter" starting now through BTS' official store by clicking here. They can also pre-save the song on Spotify and Apple Music there!
Fans are so excited to hear "Butter" because based on everything Big Hit said, it's going to be BTS' best single yet!
This article was originally published on