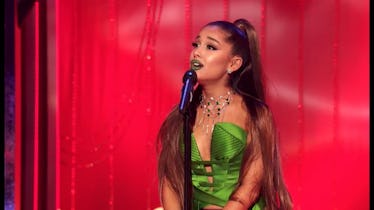 Here's How To Get Ariana Grande's Glittery Green Makeup Look, So You Can Channel 'Wicked' On The Reg
NBC
One of my proudest accomplishments to date is that I've seen the musical Wicked three times (and counting, hopefully). So when I heard that NBC would be airing A Very Wicked Halloween: Celebrating 15 Years On Broadway, it's safe to say I was beyond thrilled — especially when I heard Ariana Grande would be singing one of the show's most popular songs. When it came time to watch, I was blown away not only by the on-point vocals, but by Ariana Grande's Wicked-inspired green makeup look. No, she didn't go with the full-on face paint, but she did manage to channel her inner Elphaba with just the right amount of green glitter, and I'm considering copying the look for Halloween as well as the rest of my daily, Wicked-obsessed life.
The first time I saw the play, I was lucky enough to see the endlessly talented original cast in action, with the delightful Kristin Chenoweth as Galinda and the powerhouse Idina Menzel as Elphaba. The duo really put the musical on the map as one of the most iconic shows on Broadway. Even though I enjoyed my second two showings with other actresses performing the roles, I've been a longtime believer that no one, I repeat, no one can sing as Elphaba quite like Menzel.
However, after performing in A Very Wicked Halloween, Grande really challenged my long-held belief, absolutely nailing her rendition of "The Wizard and I" and quite literally giving me chills. Every note was flawless, but I admit to having to watch her performance a second time to really pay attention to her voice, because the first time around, I was genuinely distracted by how bomb her green makeup looked.
Like, hi, let's talk about this glittery green lip? Can we please?
Who else would be behind this iconic look other than makeup god Mario Dedivanovic? When he posted about it, I was just like, "Of course."
Ari always stays true to her neutral shadow and winged liner combo, but if anyone could convince her to rock a bit of color, it's the uber-talented Dedivanovic. However, the MUA didn't give us any insight as to what exactly he used to nail this glittery green lip and shimmery emerald eye look, even though fans went crazy for it, myself included.
Even Elphaba herself, Idina Menzel, gushed about being "a huge fan" of Ari. I assume she meant her makeup look, too:
Even though Dedivanovic didn't dish on what products he used, I've scoured the depths of my makeup bag to come up with the perfect recipe to acheive a similar look, whether you want to be a witch for Halloween or simply feel it necessary to channel these spooky-sweet vibes on the reg.
For the lips, it appears as though the base shade is neither full-on green nor jet black, but a deeper emerald shade, not unlike Too Faced's Melted Matte-Tallic Liquified Metallic Matte Lipstick ($21, toofaced.com) in shade "The Real Teal." It definitely looks like Dedivanovic packed actual glitter atop Ari's lip color — it seems way too chunky and sparkly to be a glitter gloss — so if I had to guess, he probably pressed something like the MAC Glitter Pigment ($22, maccosmetics.com) in shade "Emerald" onto her lips before her lipstick dried down.
For the eyes, the look is still green and shimmery, but in a much more sheered-out, subtle way. I image you could get a similar look with a thin layer of the Stila Shimmer & Glow Liquid Eye Shadow ($24, stilacosmetics.com) in shade "La Douce" blended out all over the eye, complimented by just the tiniest dab of either the MAC Glitter Pigment to emphasize the green, or a bit of the Stila Glitter & Glow Liquid Eye Shadow ($24, stilacosmetics.com) in shade "Gold Goddess," since Ari's eyes definitely have a little gold reflect.
Can you believe it's actually that easy to recreate this stunning Oz-inspired lewk?? Elphaba is shook:
Here's hoping Ari continues to rock this colorful look on the reg, because honestly, it really suits her. I wonder if Broadway's current Elphaba can talk to the makeup crew about adding a little glitter to her green facepaint? If you try out this look for yourself, though, be warned: I highly recommend rocking an Ariana-style high pony, so you don't get hair in your glittery lips.