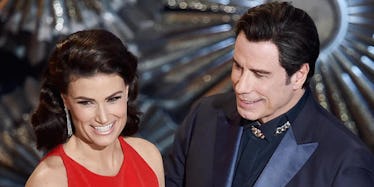 Idina Menzel Gets Last Laugh By Calling John Travolta 'Glom Gazingo' (Video)
Idina Menzel got her revenge on John Travolta at last night's Oscars.
If you recall, at last year's awards ceremony, Travolta accidentally referred to Menzel as "Adele Dazeem," a name that still follows Menzel around to this day.
So, when introducing Travolta, Menzel called him "Glom Gazingo," and they both had a good laugh.
In response to Menzel's harmless jab, Travolta said,
I deserve that.
Though, things did get a bit awkward when Travolta kept on touching Menzel's face for an uncomfortable amount of time.
At least he got her name right...?
Citations: Idina Menzel Calls John Travolta Glom Gazingo At This Years Oscars (Huffington Post)