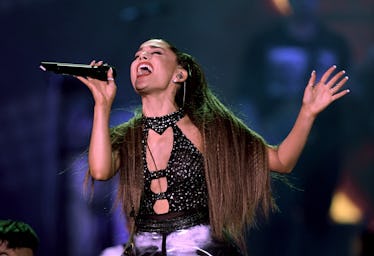 A 'Wicked' Concert With Ariana Grande Is Coming To NBC, So Get Ready To Defy Gravity
Kevin Winter/Getty Images Entertainment/Getty Images
Broadway fans, today is your lucky day. A Wicked concert with Ariana Grande is coming to NBC next month, so get ready to exercise your vocal chords for a sure-to-be epic singalong. The beloved Broadway smash is getting its very own special just in time for the Halloween season. A Very Wicked Halloween: Celebrating 15 Years on Broadway will air on Monday, Oct. 29. The broadcast will be hosted by the show's original stars Idina Menzel and Kristin Chenoweth, but they'll be joined by a star-studded roster of talented guests.
"Wicked is a blockbuster musical playing all over the world and still selling out night after night after 15 years on Broadway and we're thrilled to be partnering with Emmy and Tony-winning producer Marc Platt and the entire Wicked team to celebrate the enduring success of this show," Doug Vaughan, executive vice president, special programs and late night for NBC Entertainment said in statement, according to Deadline.
"We're especially excited to have Idina Menzel and Kristin Chenoweth reunited along with big guest stars in front of an audience — in costume hopefully — to help us celebrate the Halloween season," he added.
The full lineup of performers has yet to be announced. Ariana Grande, a capella sensation Pentatonix, and Broadway's current Wicked company are confirmed to appear.
The musical Wicked, based on the 1995 Gregory Maguire novel Wicked: The Life and Times of the Wicked Witch of the West, leads up to the classic Wizard of Oz story by telling the events from the perspective of the witches. The show began its Broadway run in 2003. It was nominated for 10 Tony Awards — Idina Menzel took the win for Best Actress.
Ariana Grande is no stranger to the music of Wicked. She's previously expressed her love for the show. Earlier this year the pop superstar was even rumored to be headed to Broadway to portray Elphaba, the role originated by Menzel.
"I was a huge theater nerd my whole life, still am. It's what I put on when I need to restore my soul and heal myself. It brings you back to home," Grande told Seth MacFarlane during their Apple Music Carpool Karaoke session. "One of my dream roles is to play Elphaba. I would do it tomorrow!"
Ariana previously noted in 2013 that she would prefer to be Glinda, but perhaps she's changed her mind over the years.
Ariana was also featured on Mika's 2013 jam "Popular Song," which sampled Wicked's iconic track "Popular."
As if you needed even more of a Grande connection to Wicked, her link to the musical goes deeper. She has a history of working with the original Glinda, Kristin Chenoweth, in another NBC musical event — 2016's Hairspray Live!. Although, the vocally gifted pair crossed paths long before Ariana catapulted to mega-fame.
"I met Ariana years ago when she was just a little girl," Chenoweth told InStyle. "When I was in Wicked, she came backstage with her brother Frankie to meet me. We sort of just fell in love. And now we finally get to work together!"
Get ready for a musical reunion of bewitching proportions. A Very Wicked Halloween: Celebrating 15 Years on Broadway airs Monday, Oct. 29, on NBC.