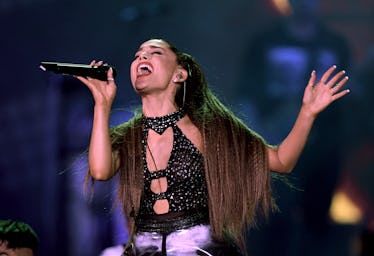 Ariana Grande's 'Wicked' Anniversary Special Performance Highlights Her Magical Voice
Kevin Winter/Getty Images Entertainment/Getty Images
Ariana Grande is back, you guys, and she's Wicked good! The 25-year-old pop star stepped out on stage for the first time since her split from Pete Davidson to perform a song for NBC's hour-long concert special, A Very Wicked Halloween, and it was actually legit magical. The show — which featured songs from the hit musical — aired on Oct. 29, and I am not lying when I tell you that I had chills the entire time the "God Is a Woman" singer was belting out "The Wizard And I." Seriously, you have to see this video of Ariana Grande's Wicked performance because it's so, so good, And now I just want to see her take on the role of Elphaba for real.
In honor of the iconic character and her emerald skin, Grande was all decked out in green as she sang out the lyrics to the witch's first-act solo, originally performed on Broadway by the amazing Idina Menzel. The "No Tears Left To Cry" singer also rocked big green jewels around her neck, green-winged eyeliner, and sparkly green lips, and this def needs to be a trend because girlfriend looked fierce AF! I may just have to call an audible and dress up as Grande channeling Elphaba for Halloween this year, because I am seriously feeling her forest-ey look.
Check it out:
So much inspo!
Meanwhile, the special was actually taped for NBC on Oct. 15 — which, in case you forgot, was just days after Grande and Pete Davidson's breakup. But the pop star wasn't gonna let anything come between her and this epic moment.
"Ok today was v special and I'm so grateful I was able to be there," she wrote in a post on her Instagram story after the taping on Oct, 15. "Can't believe I almost let my anxiety ruin this for me today!! Not today satan! finna sing my heart out and be a big walking vessel of love bye."
Such a queen!
Grande also posted a picture of her Wicked rehearsal script on her Insta feed on the very same day:
"Honored to be included in this celebration of 15 years of my favorite musical of all time 💚," she wrote in the caption. "Wouldn't miss it for the whole universe #wicked15."
And she shared a cheek-to-cheek shot of her and Menzel — who was also part of the special, as was Adam Lambert — and it's every bit as, well, fly as you'd think a shot of two women who've played a levitating witch who could defy gravity would be.
"If y'all told me ab any of this fifteen years ago," Grande wrote in the caption. "Bye."
AH-mazing!
You prob wanna see her performance now too, right? Well, here you go:
Like I said before, it's wicked good. Missed the special and want to check out Ari's entire performance? Go head over to the Wicked musical's Twitter where you can watch most of the performances!
And go do it now, before somebody goes and drops a house on you.