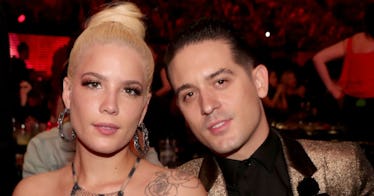 Everything Halsey's Said About G-Eazy Since Their Split Has Me So Confused About Their Status
Christopher Polk/Getty Images Entertainment/Getty Images
You, like me, might be wondering what the status of Halsey and G-Eazy's relationship is. Since they officially announced their breakup at the beginning of July 2018, fans have bumped along the wobbly road following their behavior and trying to read between the lines as to what really happened. After a hefty cheating rumor, a little public crying, and some confusing social media interactions, loads of fans are left asking the question, "Are Halsey and G-Eazy still friends?" I don't know, like, define "friends." My answer is kind of, but the safer answer is "probably not, but maybe they're trying to stay civil to keep up appearances and to protect their careers." Silly PR.
Halsey was the first to announce the split on July 3 when she posted the sad news on Instagram. She wrote,
I normally keep this kind of thing private but provided our public nature I feel the need to inform my fans. G-Eazy and I are taking some time apart. I'm eager to continue the upcoming passage of time dedicating myself to my art and my career, and the duration of my tour. I wish him the best. Thanks for respecting our privacy at this time.
Just one day later, she shared a scissors emoji on Twitter followed by the phrase: "pumpkin eater." Fans were quick to jump to conclusions, associating the scissors with G-Eazy's line from their hit "Him & I" that goes, "If I ever cheated she would try to cut my d*** off." Halsey eventually deleted the scissors emoji, but a tweet that simply said "pumpkin eater" — an apparent reference to the old nursery rhyme "Peter, Peter, Pumpkin Eater" — remained. Folks regularly recite the rhyme as, "Cheater, Cheater, Pumpkin Eater," and assumed Halsey might be trying to tell them something.
Still, just when fans were ready to cut G-Eazy out of their lives, Halsey made a comment suggesting she slept with an ex (*cough* G-Eazy? *cough*) leaving everyone feeling more confused. She also cried on stage during a performance making the public believe she might not be entirely over G-Eazy or their relationship.
Even when the press tried to pit her against G-Eazy, she defended him. There was a brief rumor suggesting he started dating Demi Lovato, which cameras confronted Halsey about in an airport. Without missing a beat, she said, "They're just friends. They're cool. Demi's cool. They're just friends."
No hate for him or Demi.
Pretty chill, right?
TBH, it would be understandable if they were low-key trying to find a way to stay in each other's lives. Which, speaking of...
Halsey proved the two are at least still communicating in one way when she commented on one of his Instagram posts towards the end of July. And, not just any Instagram post. G-Eazy shared a picture of himself on his concert stage with the caption, "Big D*ck Energy." Initially, Halsey just left three emojis: a cloud, a tornado, and a water drop. Fans guessed it was meant to signal something petty, but Halsey clarified that no, actually, she was just being supportive. She commented,
No petty here. caption dumb funny and stage looks dope. Jealous of everyone who gets to see the show!
Well, that's lovely.
All of this to say, who knows where these two stand? Perhaps in the future fans will learn they've worked things out and are back to collaborating. Maybe the "Big D*ck Energy" comment will be the last time they ever communicate. Only time (and probably their respective upcoming music or albums) will tell.