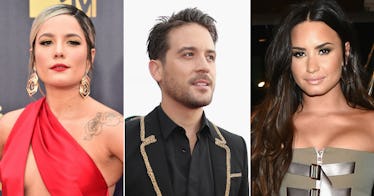 Halsey Just Responded To Those G-Eazy & Demi Lovato Dating Rumors & She's Mature AF
Alberto E. Rodriguez/Getty Images; Christopher Polk/Getty Image; Mike Coppola/Getty Images
Halsey and G-Eazy confirmed that they broke up just a few weeks ago (still not over it, BTW) and rumors are already flying that the rapper has moved on to dating Demi Lovato. I know, things move fast when you're famous. But TMZ caught up with the blue-haired "Bad At Love" singer at LAX on July 19, and she pretty much shot down all the gossip. Halsey's response to rumors G-Eazy and Demi Lovato are dating was actually so chill and mature that she is legit my new idol. Doesn't hurt that her sleek, ice-blue bob is straight fire.
In case you missed all the speculation about G hooking up with D. Lo — who recently admitted to a relapse after six years of sobriety — here's the deal: The duo reportedly hit up a the Warwick Club in Hollywood last weekend, where they were reportedly spotted holding hands. And when you're a celebrity, that pretty much means you're, like, secretly married or whatever. Of course, when asked about the alleged romance on the ESPY red carpet on July 18, G-Eazy — who was rocking a new platinum hairstyle — was all "she's just a friend." And now Halsey is here to totally back that response up.
"They're just friends," she told TMZ. "They're cool. Demi's cool. They're just friends."
So there you have it — everyone's cool.
Halsey first announced that she and G-Eazy had split on July 3 with a simple black-and-white message typed out on her Instagram story. "I normally keep this kind of thing private but provided our public nature I feel the need to inform my fans," she wrote. "G-Eazy and I are taking some time apart. I'm eager to continue the upcoming passage of time dedicating myself to my art and my career, and the duration of my tour. I wish him the best. Thanks for respecting our privacy at this time."
Of course, the media hasn't actually respected the ex-couple's privacy at all. Because duh. But as G-Eazy told Entertainment Tonight, that's just one of those things that comes with the territory. "You trade in your anonymity in exchange for some of your success in the public eye," he said. "You have to remember the blessings and remember how grateful you are to be here in the first place and understand some of that is just what comes with the territory."
Yeah, I feel that.
Meanwhile, Halsey and G-Easy both have upcoming dates at the Shoreline Amphitheatre in Mountain View, California on July 27 and July 29, respectively. Will they cross paths? Who knows? But even if they do, I'm pretty sure there won't be any breakup sex.
"I learned recently it's OK to be alone, being alone is enough," Halsey reportedly told the crowd at her July 14 concert at The Event Center at Borgata Hotel Casino & Spa in Atlantic City. "The second lesson I learned is don't f*cking sleep with your ex."
Great advice, girl! But that doesn't mean we should expect to see the "Bad At Love" singer on the dating apps any time soon. "Hell no," she told TMZ. "That's not my style. I'd rather go to a bar."
LOL, same.