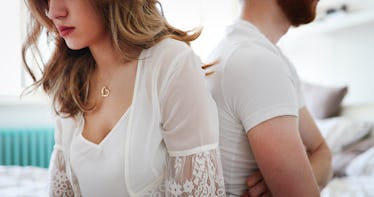 5 Small Gestures That Could Mean You're In An Unhappy Relationship
Shutterstock
Some say that actions speak louder than words — and in relationships, that can certainly prove true. Think about it: When your SO gives you an impromptu back rub, surprises you with takeout from your favorite spot, or helps you study for an exam, all of those are powerful alternatives to saying, "I love you." So, if you're wondering, "Am I in an unhappy relationship?" — sometimes the best way to figure it out is to look at how you and bae are behaving toward each other. Because there are certain small gestures that could spell trouble in paradise.
According to Dr. Gary Brown, a prominent couples therapist in Los Angeles, these seemingly small gestures are actually quite telling, as they offer insight into how both partners are feeling toward each other, as well as about the state of their relationship. And sometimes, it's the absence of certain gestures that used to be common that serves as a red flag. On the whole, however, these gestures all point to the glaring possibility that one or both partners are feeling dissatisfied or unfulfilled in the relationship. Therefore, taking note of these gestures is crucial — because once you've identified them, you can take action to get to the root of the problem and make a positive change.
Wondering which gestures to look out for? Here are a few that suggest your relationship could probably use a tune-up.