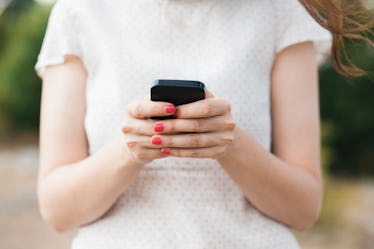 5 Sweet Texts To Send Your Partner That Will Make Them Fall In Love With You All Over Again
We're all familiar with the sheer bliss that comes from hearing your phone "ding!", looking down, and finding an unexpected sweet text from bae. It's enough to make you smile — sometimes, it's even enough to turn your whole day around. So why shouldn't you do the same for your SO? You definitely don't need a reason for cute, cleverly crafted texts to send your partner, and truthfully, that small gesture could be enough to make your them fall for you all over again.
The only question is what to text. Sure, you could send them a simple "Thinking of you," or "Missing you," or "How was your day?" Of course, you could also resort to sending along those three little words, which are always nice to read. The more thought you put into personalizing your message, however, the more impact they could have. Try to focus on showing your partner how much you love them, rather than simply telling them. The more you shape your texts around the aspects of your relationship that are unique, the more your partner will get out of them.
Strapped for ideas? Fret not. Here are some super sweet texts to send them, whether you're trying to excite them, surprise them, remind them of how much you cherish them, or simply brighten their day overall.