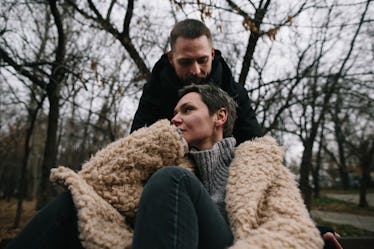 If Your Relationship Might Be Going South, You'll Notice These 6 Signs, Experts Say
Have you ever been in a relationship and had a moment of clarity where you realized that somehow, you'd gotten off track? You used to be so happy and invested in the romance, but suddenly the signs your relationship is going south are everywhere — especially in your own heart. Or perhaps even worse, you can tell that your partner is pulling away. It's definitely a bummer, to say the least. What's even worse is when you have a gut feeling that something is off but you aren't sure what it means. In that case, knowing what to look out for if you suspect your relationship is on the rocks can be really useful, either in helping to get things back on track, or assisting you with beginning to accept that this relationship may not be the right one for you.
To help break down what to be on the lookout for as indications that the relationship is on a downward trajectory, I reached out the the experts. First things first — Connell Barrett, Dating Transformation founder and executive dating coach, tells Elite Daily it's important to understand what makes for a great and solid relationship: A combination of love and passion. "Love is about connection, caring, empathy, understanding. Passion is sexy, raw, fun, wild — the colors of the rainbow. A great relationship has both of these elements," he explains. According to Barrett, a relationship that has gone south is typically one that has lost one or both elements. Here is how the experts say that will look and feel and what the signs are that the relationship is in decline.