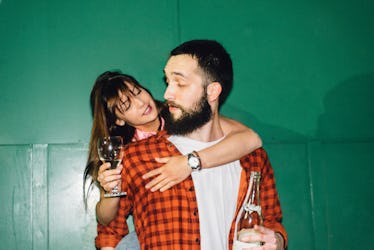 4 Signs You've Snagged Frosty The F*ckboi This Holiday Season
There are so many different breeds of players out there, but as a millennial, perhaps the most common is the f*ckboi. And with so many of them lurking, you'd think he'd be easier to spot. Quite to the contrary, however: The very nature of the f*ckboi is that he's quite the charmer, and his behavior can be a bit misleading. If you're asking yourself, am I dating a f*ckboi?
"A f*ckboi is predatory, and he makes his prey feel special while he's got his sights set on them," relationship and etiquette expert April Masini tells Elite Daily. "But once he has what he wants, he's not very interested…. until he is again."
Fortunately, there are several ways to identify a f*ckboi. Why can this be helpful? Well, depending on what you're looking for in the dating department, it's important to know who you're dealing with in order to try and minimize any hurt feelings on your part. Once you know you've got a f*ckboi on your hands, it's up to you to decide whether you want to cut him loose or keep things going with the expectation that it's strictly casual.
Here are some red flags that you've snagged a f*ckboi this holiday season.