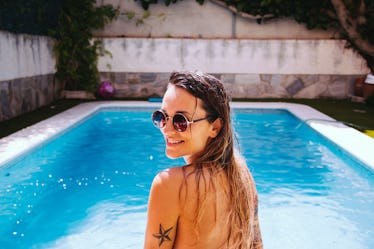 9 Women Who Prefer Hookups To Relationships Get Real About Why That's Right For Them
One of the dumbest misconceptions that still lurks around the dating landscape is the idea that all women are desperately seeking serious relationships. But news flash — there are plenty of reasons we might not want to lock things down with the first person who shows signs of interest in us. The reasons that some women prefer casual relationships are as varied as the women themselves: Some are prioritizing other goals, like kicking butt at work or focusing on self-care after experiencing heartbreak. Some don't want or aren't currently ready for a long-term partnership. Some are DTF but just not feeling cheesy romantic vibes.
It's not 1958; the concept of women enjoying no-strings-attached, casual, mutually satisfying sex shouldn't blow people's minds. And yet, you've probably read at least a few pearl-clutching headlines about the doom and gloom of millennial hookup culture, right? Yawn.
It's perfectly normal and healthy to want a little something something without pretending to care about your date's brunch plans for tomorrow morning. Men have been doing it since the dawn of time. Below, nine women explain why casual relationships are the right choice for them at the moment, and how they navigate their sex lives.