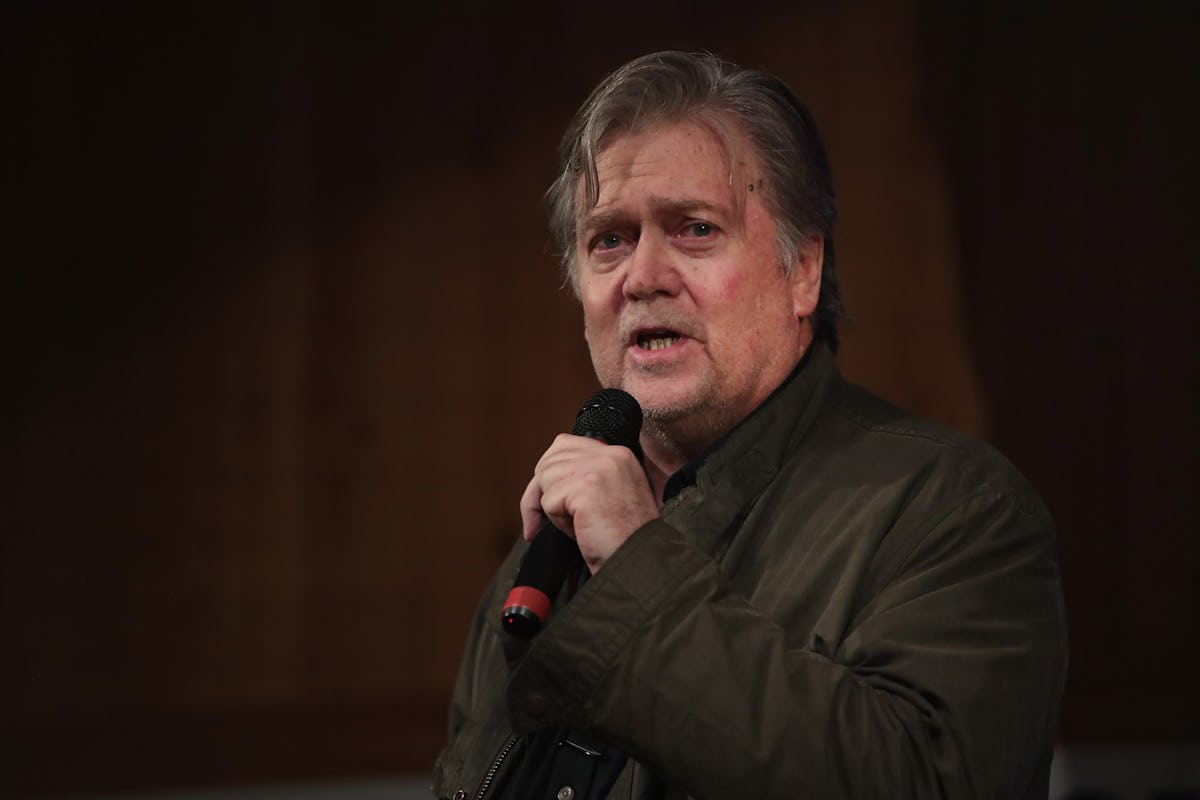 9 Ways To Dress Up As A Fired Trump Staffer, Because There's A Lot Of Them
Scott Olson/Getty Images News/Getty Images
We get that politics can be dreary, and news can be stressful. Halloween is that magical time of year to put your woes aside and even, if you're inspired, poke some fun at certain corners of the world. If you're still looking for that perfect political-yet-funny costume this year, now's the time to put together your costumes for ex-White House staffers for Halloween.
Already this year, despite being only nine months into office, more than a dozen of Trump's employees have been fired, resigned, or switched jobs on a dime. Those aren't great stats. Take a look at his predecessor's numbers and you'll see this simply isn't standard practice.
You'll notice this list looks a little thin. There are indeed several more names on this list that we didn't include, because to be honest, it'd be exhausting to describe every person in the Trump Administration whose presence is now memory. (We hope you understand.)
Here we've come up with ideas to have some fun with what's been a tumultuous year. These aren't all firees, but notable departures nonetheless.
A Christmas Carol, The Remix: Ghost of Staffers Past
Why not pay homage to the Charles Dickens classic? There are so many staffers to choose from, this one makes for a great group costume.
Because all of these are, well, white men in positions of power, start with your standard suit-and-tie-plus-American-flag-pin as a base. Alternatively, you can go as ghosts keep your costume cheap and easy with a basic white sheet with eyeholes. From there, you'll add some staffer-specific props.
Let's start with an easy one to get our creative juices flowing.
Steve Bannon
Here's a man who's literally been compared to a grim reaper, so it's really not much of a stretch of the imagination. Alec Baldwin would undoubtedly be proud if you can outdo the Bannon Reaper from Saturday Night Live.
It'll be easy to dress up as the Ghost of Steve Bannon, who was ousted on Aug. 18 — though he contends he'd tendered his resignation before that. No need for a suit if you simply layer half a dozen shirts with a safari jacket and jeans. Dab a bit of red makeup around your nose and eyes, don't iron any of your collared shirts after drying them, and run some grey paint through your hair to create the full-on look.
(If anyone out there finds a Steve Bannon wig, please share it with the world.)
Tom Price
The former Health and Human Services Secretary, Price resigned in late September amid reports that he'd routinely used a private jet for business travel, racking up at least $1 million in taxpayer expenses since May.
That's all you need to know to make this a smashing success. Buy yourself a small toy jet and carry it around with you all night, aided by a gray wig, frameless glasses and a suit, and you've got yourself a winner.
Sean Spicer
The White House Communications director resigned in July, but he's still a fresh memory for most of us. We highly recommend watching SNL clips of Melissa McCarthy's impressions of Spicer for inspo.
The man has been known to sport purple ties, so there's an easy one. Go the extra mile and channel his inauguration-crowd-size boasting. Print yourself some photos of the Trump inauguration and routinely hold them up and insist to anyone in earshot that this is the biggest Inauguration crowd, ever, period. (You may lose friends for this.)
Anthony Scaramucci
The Mooch! The White House Communications Director was fired really before his official duties even began, so that right there opens up a lot of creative possibilities. Wear running shoes with your suit to honor how he practically sprinted through his 10-day term. Should you be so inspired, hold a speech-bubble sign with nothing but expletives written in swear-symbols. (The dude likes to drop f-bombs among other things.) The iridescent aviators are another can't-miss.
Pro tip: If you're wearing this to a party, make a statement by being generally obnoxious and then leaving aburptly 10 minutes after arriving.
Feeling lazy? You can buy a t-shirt that harnesses the simple elegance of Scaramucci's Steve Bannon quote (Etsy, $20).
James Comey
This one lends itself to any sort of tragic takes, given the fact that the former FBI Director was not only extremely well-respected in the intelligence community, but also found out that he was fired from TV. Carry a file folder with faux FBI documentation inside. To really go the distance, wear a name tag or hold a speech bubble reading, "Wait, I'm fired?" (Too far?)
Reince Priebus
Because Trump announced his change in chief of staff via Twitter back in July, the obvious choice is to print out the tweets and use those as props. Tie it together with a suit, and you're good to go.
Orange Toupee & Pink Slips
Flying solo for your Halloween costume? No sweat. Dress up as the Commander-in-Chief and walk around handing out pink slips. If you go all-out DT on this one, hats off to you. Or rather, toupees off?
Comb Over Candidate Wig, $17, Spirit Halloween
Grim Reaper Waiting To Take Current Staffers
Another great group costume idea is to focus on the present and who's still hanging onto their job by a tiny sad violin string. One person dresses as the symbolic "career grim reaper" by carrying not a scythe but a stack of pink slips. They'll follow around the others, dressed as any of the following: Rex Tillerson, John Kelly, James Mattis, Jared Kushner, Donald Trump Jr. and/or Ivanka Trump. Go next-level somber and sardonic with the addition of Robert Mueller, but be prepared for possible internal turmoil and acute anxiety.
Grim Reaper Costume, $45, Halloween Costumes
Mueller Interviewing Staffers
Another ideal group costume setup is to go as Robert Mueller, who took over the Russia investigation at the FBI after Comey was fired, and any of the (many) people around Trump's administration and campaign who have been brought in for questioning.
Hopefully this gives you enough to get started.
A note: Because we're not soulless jerks, we get that some people might ask, But wait, since these people had families who depended on them, isn't it insensitive to dress up as someone who lost a job? Normally, we'd say so. But with the assaults the Trump administration has placed on so many people and their families, including in ways that impact their financial futures (health care; women's access to birth control; abortion rights; etc.), we think it's totally valid.
As I see it, if you're going to potentially make it easier for people to get away with rape, you don't really have a moral leg to stand on. But that's just one snowflake's opinion.
Happy Halloween!