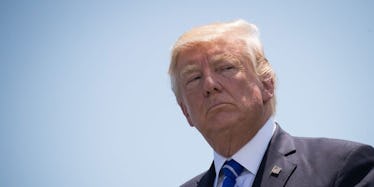 Trump Has Now Fired More People In His First 6 Months Than Obama Did In 8 Years
Drew Angerer / Getty Images
The Trump administration has had a rocky start, and it doesn't appear to be improving. With what feels like weekly staff shakeups plaguing the administration, it begs the question of who will be left by winter vacation.
Thus far, by our count, President Donald Trump has already fired more people than Barack Obama did in his eight years in office. To be clear, the firing count is including only high-profile, unusual cases, not typical turnover that happens during a presidential switch. Let's begin at the beginning of Trump's administration, to make sure we're not missing anyone:
Sally Yates And Michael Flynn
Just nine days into office, Trump fired then-Attorney General Sally Yates when she refused to defend the immigrant ban.
Two weeks went by before another changeup. On Feb. 13, then-National Security Advisor Michael Flynn resigned after it was discovered that he appeared to have misled the administration about his contacts with Russian officials regarding sanctions.
Preet Bharara
The following month, U.S. Attorney Preet Bharara was fired after refusing to quit, The New York Times reported. (He was one of 46 other attorneys appointed by former President Barack Obama who got the boot, but we're not including them in the tally because it's been argued that this turnover is somewhat routine.)
James Comey and Angella Reid
Perhaps the most prominent termination came in early May, when Trump fired FBI Director James Comey -- only the second time in history a president had done so.
At around the same time, the White House dismissed chief usher Angella Reid in an unusual move, USA Today reported.
On June 1, Tesla's Elon Musk and Disney's Roger Iger both resigned Trump's advisory council after he announced withdrawing from the Paris climate accord, according to the Los Angeles Times. And a month later, on July 6, former director of the Office of Government Ethics Walter Shaub resigned, The New York Times reported.
Resignations In Communications
Later that month, White House Communications Director Mike Dubke put in his resignation in anticipation of more staffing turmoil, CNN reported.
On Friday, July 21, former Press Secretary Sean Spicer resigned, apparently after learning that Trump had offered Anthony Scaramucci (who Spicer is no fan of) the job as communications director.
Amidst the communications drama, White House press aide Michael Short resigned on July 25.
Reince Priebus And Anthony Scaramucci
The next week, Trump's team had yet another shakeup. On July 28, Trump announced via Twitter that he was replacing Reince Priebus with General John Kelly as chief of staff.
The West Wing had little chance to catch is breath before the firing fairy struck again. On July 31, just 10 days after appointing him White House Communications Director, Trump fired Scaramucci.
This isn't even as far back as the drama goes. In November 2016, Gov. Chris Christie was pushed out in his role on Trump's transition team. This tally also doesn't include routine turnover that a new administration normally executes upon taking office.
As of Aug. 4, the tally comes to six firings and five resignations of major roles on Team Trump.
Let's compare this tally to President Obama, whose administration also had some turnover.
In all, it appears that Obama fired only a few people, ABC and RollCall report. This doesn't include another dozen or more employees who resigned, stepped down, or were forced to resign, CNN reported. And taken alongside those of Trump's presidency, all of these staff changes happened over comparatively routine reasons.
Firings were pretty rare in Obama's administration, with just four major firings in his two terms.
Of those actually dismissed, the list includes Jofi Joseph, Shirley Sherrod, Stanley McChrystal, and, of course, Michael Flynn.
Apples to apples, Trump has already axed more people than his predecessor in one-sixteenth the time.
With all the shakeups going on, Trump won't be able to go on a hiring spree during the Congressional recess. The Hill reports that Senate has blocked him from making any appointments -- for the time being, anyway.