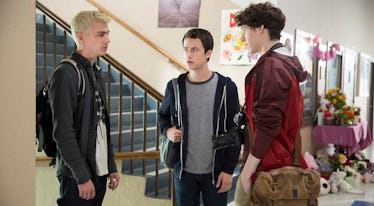 9 '13 Reasons Why' Season 2 Details That All Fans Should Know Before Binging
Netflix
After a devastating and controversial first season, 13 Reasons Why is about to drop its second season in just a matter of days. Since Season 2 is no longer adapting Jay Asher's 2007 YA novel and telling a completely new story, fans understandably have a ton of questions about what we can expect from the upcoming string of episodes. While a big part of the new season is still under wraps, we've gotten a good amount of 13 Reasons Why Season 2 details that should give fans a good idea of what is coming their way on May 18. Get all the information on Season 2 right here:
1. No More Suicide
While Season 1 dealt with a number of hot-button issues, at its core, it was about teen suicide and how that might affect a community. Moving forward, showrunner Brian Yorkey confirmed to the Hollywood Reporter that the new season will not depict suicide onscreen or off at all, although he did clarify that Hannah Baker's death does continue to be a central part of the story.
2. A New Theme: Sexual Abuse
Yorkey also revealed that with the story of Hannah's suicide having been told, Season 2 will focus on a brand-new controversy: sexual assault at a high school. The first season included two harrowing instances of sexual assault, as it was revealed that school jock Bryce Walker raped both Hannah Baker and Jessica Davis, and both of these women's stories will continue into Season 2. The new season will expand on the topic, focusing on a case of serial sexual assault perpetrated by one of the school's athletic teams.
3. Bryce's Just Desserts
One of the most frustrating parts of Season 1 was knowing what Bryce did but never seeing him have to pay for his actions. Given the theme of Season 2 and a hint from Netflix last summer that "Bryce will hopefully get what's coming to him," fans can expect to finally see Bryce face justice.
4. The Bakers Are Suing The School
The fallout from Hannah's suicide is still very much a driving force in the new season, and Yorkey said that there will be a legal trial that lasts throughout the second season that is pivotal in unraveling a new mystery. The trial is the result of Hannah's parents suing Liberty High School after they have finally heard their daughter's suicide tapes.
5. Polaroids Instead Of Cassette Tapes
Last year, Brian Yorkey teased that Season 2 would employ "a different sort of analog technology" from the cassette tapes at the heart of the first season, and the recently released teaser trailer for Season 2 made it very clear what that analog tech would be: Polaroids. Apparently, a series of ominous Polaroids will provide characters with important details about Hannah or about the high school's sexual assault outbreak, and the mystery surrounding them will be a huge part of Season 2.
6. There Is A New Narrator
With Hannah's suicide taking a backseat in the new season, Netflix has confirmed that a different character is taking over the narration duties for Season 2. Although the identity of the new narrator has not yet been revealed, there seem to be two clear standouts as the top possibilities:
Jessica Davis — Given the season's focus on sexual assault, it seems likely that the show will follow Jessica's story most closely of all.
Tyler Down — Hannah narrated Season 1 through her cassette tapes, and now that Polaroid photos are the new form of communication in Season 2, it clearly points to resident photographer Tyler as the new narrator, right?
7. Meet The New Characters
With a new mystery and theme, we are also going to meet a ton of new characters in Season 2. These include:
Chloe, a popular cheerleader (played by Anne Winters).
Cyrus, a rebellious teen who becomes a champion for the downtrodden (played by Bryce Cass).
Mackenzie, Cyrus' outspoken sister (played by Chelsea Alden).
Sonya, an ambitious young lawyer (played by Allison Miller).
Nina, a track star at Liberty High who's hiding a secret (played by Samantha Logan).
Jackie, an advocate for victims of bullying (played by Kelli O'Hara).
Rick, Liberty High's beloved basketball coach (played by Ben Lawson).
8. Hannah Is In It
Even though Season 1 was all about her death, Hannah Baker actually will appear in Season 2, actress Katherine Langford confirmed. This is possible through flashbacks to when Hannah was still alive, which were also a big part of the first season. Langford teased that we will be seeing "a very different Hannah" in the new season.
9. Answers To Your Pressing Questions
The main thing that 13 Reasons Why fans want from the new season is answers to all the questions we had at the end of Season 1. We will finally learn more about Alex's suicide attempt, and why Tyler has that secret stash of firearms in his room, and what Mr. Porter is going to do with Hannah's tapes.
Season 2 of 13 Reasons Why will premiere on Netflix on May 18.