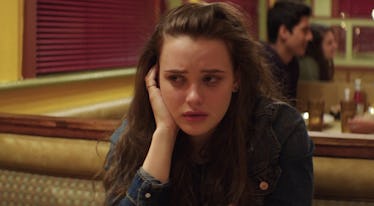 '13 Reasons Why' Star Katherine Langford Says Season 2 Shows A "Different Hannah"
Netflix
Although a release date still hasn't been announced yet, we are definitely getting very close to the second season of Netflix's breakout teen drama 13 Reason's Why. The cast just had their Season 2 wrap party over the weekend, so all that's left now is the post-production process. And now series star Katherine Langford is spilling details on what fans can expect from Hannah Baker in 13 Reasons Why Season 2: something everyone has been really curious about since it was revealed that Hannah will return in the second season. Langford told Entertainment Weekly that Hannah's return in the new season will be a completely new take on the character.
Much of how Hannah Baker will figure into Season 2 of 13 Reasons Why is a mystery to fans right now. After all, the only parts of the first season that she actually appeared in were flashback scenes, with the bulk of the season taking place after her suicide. Now that the story of Hannah's suicide has been told, the cast has been teasing that the new season will move forward to deal with the fallout that Hannah's tapes created among the main cast, along with introducing a slew of new characters. That kind of leave's Katherine Langford's physical presence in the new season a bit of a question mark for fans — Hannah obviously can't be part of the present-day storyline in Season 2 since she is dead, and we already saw her last days in the Season 1 flashbacks. Maybe that means Season 2 will include flashbacks to events even earlier than Season 1... or she's like, a ghost? OK, she probably won't be a ghost, but Langford did say that Hannah will be "very different" this time around:
You see a very different Hannah in Season 2. I would prepare fans not to expect the Hannah from Season 1 for a multitude of reasons... It's funny because I just wrapped and I think a lot of this season for me is about letting Hannah go.
Hmmm, that statement about Katherine Langford "letting Hannah go" this season also seems really telling. It sounds like this could definitely be the last season of the show to feature Langford as Hannah Baker, which would make sense considering the character's death. Still, so much about Season 2 is being kept under wraps, so it's hard to know for sure what the 13 Reasons Why team has in story for us. At least we could predict what was going to happen in Season 1 since it was based on a young adult novel, but Season 2 is going to be a completely original creation.
Although fans are still mostly in the dark about what to expect from Season 2, there is a bit of good news in this: It is definitely coming very soon. Netflix has yet to confirm a release date for the season (all we know right now is that it's coming in 2018), but now we know that it has officially wrapped on filming. Series stars Dylan Minnette and Katherine Langford, along with executive producer Selena Gomez, shared some shots of the cast from the Season 2 wrap party and confirmed the new season was on its way soon on social media this weekend.
And Katherine Langford had even more reason to celebrate at that wrap party, since she had just found out that she is nominated for a Golden Globe this year for Best Performance by an Actress in a TV Drama for her part as Hannah Baker in 13 Reasons Why.
Look for Season 2 of 13 Reasons Why to drop on Netflix sometime in the upcoming months.