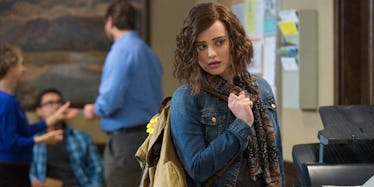 '13 Reasons Why' Showrunner Hints Hannah Baker Will Be In Season 2
Netflix
Despite being dead, Hannah Baker was the central character of the entire first season of "13 Reasons Why," so maybe we shouldn't be too surprised to hear she'll probably be back again if the show gets picked up for a second season.
But of course, it would be very surprising, since it really feels like her story ended with Season 1 — we saw her final days through flashbacks and heard her whole story told through her tapes.
Still, showrunner Brian Yorkey said in a Hollywood Reporter interview Hannah is still at the center of "the next chapter of the story," hinting she could be a part of a potential second season.
He revealed,
One of the things that is a fundamental element of our show is the weaving of past and the present. Hannah's story is still very much not finished. She's an integral part of whatever the next chapter of the story is, and she's very much still at the center of it.
Obviously, since Hannah committed suicide, she will almost definitely only be appearing in flashbacks that take place in Season 2.
Or, it's also possible Hannah won't physically appear in the show at all, but Yorkey is instead just referring to Hannah's impact on the other characters as being central and integral in another season.
Let's just hope there aren't any more tapes. I don't think I can handle it if the show is retitled "26 Reasons Why."
Even though "13 Reasons Why" hasn't been picked up for a second season yet, speculation around what another season of the show would look like has picked up recently as it looks more and more likely Netflix will create more episodes.
We know Ross Butler (who plays Zach Dempsey) recently dropped out of the second season of his other show "Riverdale" due to scheduling conflicts, and the writers' room has reportedly already started writing scripts for Season 2.
So I guess we won't really be saying goodbye to Hannah Baker after all... although I'm still not sure how she's going to fit into another season.
Citations: '13 Reasons Why': Biggest Burning Questions for Season 2 (Hollywood Reporter)