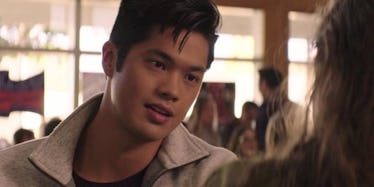 '13 Reasons Why' Actor's Latest Move Is Fueling Rumors About A Second Season
Netflix
Although "13 Reasons Why" still hasn't officially been picked up for a second season, a new bit of casting news seems to confirm Netflix's hit teen drama is most likely going to be back in our queues with a brand new season soon.
So, how do we know "13 Reasons Why" is probably filming the second season?
Ross Butler, who plays star basketball player Zach Dempsey, is leaving the other series he's starring in, "Riverdale," due to scheduling conflicts.
Scheduling conflicts, eh? The only other show Butler stars in that's currently airing is "13 Reasons Why." Hmmm....
"Riverdale" creator Roberto Aguirre-Sacasa confirmed the news Ross is leaving the CW drama to TVLine, saying they're looking to recast Ross' role of antagonistic jock Reggie for its already-picked-up second season.
He says the reason behind the recasting is Ross' "commitments to other projects."
We love what Ross did with the role of Reggie [this season], but because of his commitments to other projects, we couldn't use him nearly as much as we would have liked. [Next season], we want more Reggie on our show — he's Archie's rival! — and because Ross is unavailable to come back to Riverdale, we're looking for a new Reggie. Those are big shoes to fill, but we're confident we can find an actor who is as funny and sexy as Ross. And of course we all wish Ross the best.
It seems pretty clear the major other project Aguirre-Sacasa is referring to is Ross Butler's breakout hit "13 Reasons Why," which is being hailed as Netflix's most popular series ever after reports that it's the most tweeted-about show on the streaming platform.
Other than "13 Reasons Why" and "Riverdale," the only other shows Ross has been involved in over the past year are "Teen Wolf" and Zendaya's Disney Channel series "K.C. Undercover," both in recurring roles.
However, "Teen Wolf" is set to end with its current season, and Ross has only been in a handful of episodes of "K.C. Undercover" each season, so it really doesn't seem like those two possible obligations would be reason enough for him to leave "Riverdale."
Ross has expressed his desire for a second season of "13 Reasons Why" to Entertainment Weekly, saying he thinks there are a bunch of stories to tell with these characters.
I'm hoping for a second season. I think there's so much more to tell. I'm just crossing my fingers.
The author of the YA novel the series is based on also expressed his interest in a second season for "13 Reasons Why," and given how well it performed for Netflix, it's a pretty safe bet the streaming giant will be totally down for a season two as well.
But although most of the people involved in the show seem all-in for a second season, it hasn't officially been picked up yet.
This Ross Butler move is actually the first real bit of evidence another season is on its way, but I think "13 Reasons Why" fans can rest assured they're going to find out what's going on with Alex, Tyler, Justin, and the rest of the characters who left us with major cliffhangers soon enough.