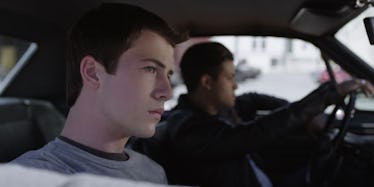 '13 Reasons Why' Apparently Already Has Its Season 2 Writers' Room Up And Running
Netflix
Ok, guys: Now I'm pretty positive a second season of "13 Reasons Why" is on its way. Though the Netflix breakout still hasn't officially been picked up for a Season 2, everything is being put into place for another run of episodes.
Earlier this week, we learned Ross Butler (Zach Dempsey in "13 Reasons Why") departed from his other series "Riverdale" due to "commitments to other projects." And now The Hollywood Reporter has reported a writers' room for Season 2 is already up and running!
That's right — apparently, the "13 Reasons Why" team has already started writing new stories about what happens to the kids at Liberty High after that Season 1 finale.
According to the report, the writers' room has actually been at work on the second season for a few weeks now, so it's safe to assume fans can expect answers to all those cliffhangers involving Alex, Justin, Tyler and the rest of the characters with open-ended storylines in Season 1.
It's really not a huge shock the teen drama is probably going to enter season two — it's been a massive breakout hit for Netflix, quickly becoming its most popular show ever on social media.
Plus, the stars and creator have stated their hopes for the series to continue. Dylan Minnette (Clay Jensen), Ross Butler and Justin Prentice (Bryce Walker) all told Entertainment Weekly they want to see more stories told with the characters, and the original book's author, Jay Asher, echoed those sentiments.
But not everyone is hoping for another season. A number of fans think a second season would actually be a bad idea for the story, which many think has already reached its natural conclusion in the Season 1 finale.
Writers for Mashable, Entertainment Weekly and PopSugar, among other sites, have all laid out their reasons why "13 Reasons Why" would be better off as a one-season show. Mostly, they argue the show is meant to be about Hannah's story, and now that her story's over, all a second season could do is diminish it.
But, like it or not, it definitely sounds like "13 Reasons Why" season two is coming our way.
Citations: '13 Reasons Why' Near Season 2 Renewal at Netflix (The Hollywood Reporter)