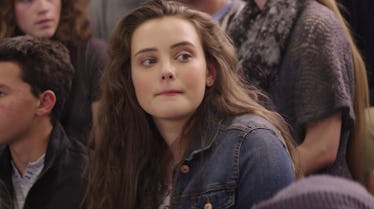 The First '13 Reasons Why' Promo Is Here & The Release Date Is So Soon
Netflix
The wait is finally over! The first 13 Reasons Why Season 2 promo has officially arrived, and Netflix has announced the release date for Season 2. If you haven't started this series or need to catch up on the last season you do have some time to catch up to the action. But I suggest that you hurry, because the new season is arriving on Netflix much sooner than you think.
Netflix announced that the sophomore season of their original series is returning on May 18 with 13 new episodes, which is just under three weeks from today's date. This is super exciting news for fans of the show that have been waiting patiently since the show first premiered on the streaming platform on March 31, 2017.
But that's not all. In addition to the Season 2 release date, Netflix also treated fans to a promo video to get everyone hyped for the upcoming series installment. The trailer clip features various cast members (namely Clay) being surrounded by flying polaroids. At the very end, Clay picks one up that shows a photo of a part of Hannah's face, flips it over, and finds the words "The tapes were just the beginning" written on the back.
What does this trailer mean for the upcoming Season 2? Luckily there are already some clues out there as to what fans can expect come May 18. In an interview with Entertainment Weekly, show runner Brian Yorkey has said that this upcoming season will take place a number of months after we left everyone off in Season 1. But what could that cryptic line featured in the trailer mean? Is Hannah's story not over just yet?
Clearly Hannah still plays an important role in this upcoming season, and Yorkey has hinted that there are still a lot of questions surrounding Hannah and her death that have yet to be answered. "I think one of the things that is still hanging out there is this question of, is someone responsible for Hannah's death? Is the school responsible? Who is responsible, if anyone is," Yorkey told Entertainment Weekly.
In the upcoming season, Hannah's parents will go through the process of filing a lawsuit against Liberty High School. The Netflix synopsis of the upcoming season in part reads,
Liberty High prepares to go on trial, but someone will stop at nothing to keep the truth surrounding Hannah's death concealed. A series of ominous polaroids lead Clay and his classmates to uncover a sickening secret and a conspiracy to cover it up.
What the synopsis doesn't mention is Tyler, who fans last saw in a very concerning state. The school photographer (which the hundreds of flying polaroids might be in in reference to) was in possession of a box containing multiple guns and ammunition by the season's finale. In fact, a fan theory has developed that Tyler may be planning a school shooting that might occur in the upcoming season.
There are still a million other questions that have yet to be answered. Will Jessica get justice and find healing following her sexual assault? Will Alex survive his gunshot injuries? What is this supposed secret about Hannah's death that the world doesn't know yet?
These and more of the burning questions that fans have will surely be answered on May 18. But in the fashion of the show, you can count on the new season inspiring a brand new set of questions once the 13 episodes are through.
If you or someone you know are experiencing suicidal thoughts, call 911, or call the National Suicide Prevention Hotline at 1-800-273-8255.