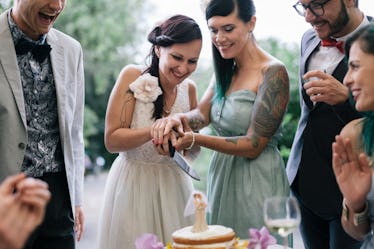 8 Things You Should Definitely Know About Your Partner Before Getting Engaged, Experts Say
Getting engaged, getting married, and everything that comes with those decisions are pretty big deals. Obviously, it can also be a fun and exciting time, but that isn't to say that you won't have questions about what to expect out of your engagement, and your marriage. So, if you're wondering what things you should know about your partner before engagement, then don't worry! I asked experts the exact same question, so we can all breathe a little easier.
Personally speaking, I just got engaged two weeks ago. It was lovely, and I had no doubts in my mind when I said yes. But, at the same time, I knew that we wanted the same things in life, and that we were both willing to work on our relationship first and foremost.
Specifically, as Charlotte Slocum, a life coach at Blush Online Life Coaching, tells Elite Daily, "You should also share both of your long-term goals and make sure that your values align." It's not easy, and "You don't necessarily have to be on the same page — but if your values about goals align, you will likely be able to figure out how to make them happen," she says.
So, what else should you know about your bae before saying yes? Here's what experts have to say.