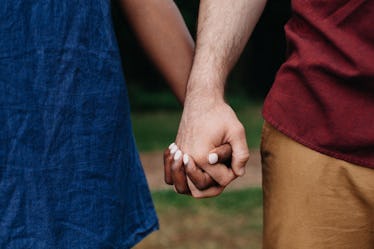 If You Want To Get Engaged, This Is When It'll Happen, Based On Your Zodiac Sign
Be still. Listen closely. Can you hear that? That's the sound of a billion hearts fluttering — or breaking, depending on who you ask — over the lightning-fast celebrity engagements this summer: Justin Bieber and Hailey Baldwin, and Ariana Grande and Pete Davidson. Both couples happen to be on the younger side. Baldwin is 21 years old, and the others are 24. The best age to get engaged is an ultra-personal choice, and it varies depending on factors ranging from how old you are when you meet your partner, to how ready you feel to take that (huge) next step in your relationship. And, of course, none of this has to happen — it's also totally legit if you don't have any interest in getting engaged or married.
So, while it's true that there's no one "right" or "normal" age to get engaged, your zodiac sign is one way to imagine when a proposal might happen in your life. Let's be clear: It's way more important to pop the question or say yes to the love of your life at the right time for you and your partner, not because the internet told you that it's time to get cracking. But as long as we all know this is just for fun... let the engagements begin.