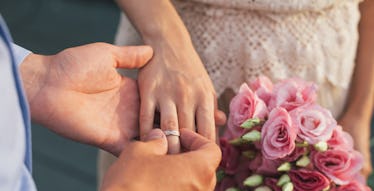 7 Signs You Have Some Growing Up To Do Before You're Ready To Get Engaged
It's that time in our lives where proposals and engagement rings are starting to creep onto our Instagram scrolling and Facebook newsfeeds. All the mazels, hoorays, and cheers to those happy couples, but engagement isn't necessarily the right next step for every duo in love, especially when you're in your late teens or early twenties. There are so many milestones along the way before an engagement – like meeting each other's families, going on a trip together, swapping keys, and maybe even moving in together. If you're not ready to get engaged, there are probably a few warning signs to make you more aware of your true feelings toward your partner – or you - getting down on one knee.
I spoke to Chris Armstrong, relationship coach and owner of Maze of Love and Anita A. Chlipala, LMFT and author of "First Comes Us: The Busy Couple's Guide to Lasting Love." They both offered different perspectives and options of warning signs you may not be ready for engagement quite yet. And if you think you are ready to get engaged, scroll down and read, just in case.