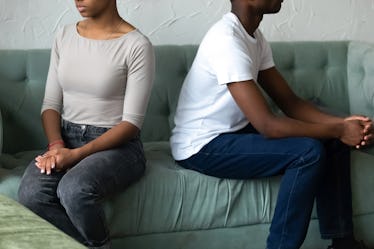 People Will Never Change, So Stop Trying
Shutterstock
You can't change anyone without his or her permission and it's rude to try. You either accept people for who they are or do not associate with them. This is an impossible task too many people try to take on in their relationships and in their friendships. Trying to mold people into the way you wish they were is inherently disastrous.
People are exactly who they are, and despite your opinion, they will continue to live this way. How many times have people gotten into relationships with the thought "I can make them into a better person; I can save them"? How well does this work out? I bet more often than not, this blew up in their faces. Implementing change within ourselves is hard enough and trying to change the way someone else behaves is even harder.
"You can't change other people. You can only change yourself. Everyone's got problems. You learn from them, you live with them, you move on. It's a choice you make if you want to have a happy life. Nobody's perfect. People are different and that's what makes them so interesting."- Lorraine Bracco
When you truly know and love somebody it can be frustrating watching them throw away all their potential, but this is NOT your problem, it is theirs. You can only express your opinion on the situation; you cannot force it down their throats. This is something they must personally accept and consciously work towards. You forcing your beliefs down their throats is only going to cause resentment and manifest an opposite effect.
Showing someone the error of their ways is a much more difficult task than most people realize. All you can do is show them the information and let them interpret it in their own way. The decision to change must come from the other person. This is the only way they will make an effort to change their actions.
"You can't change people, either you accept who they are or start living life without them."
If you are committed to helping someone make changes in their life you need to understand what it is they truly want. The best way to handle this is not to project your own ideas onto them but rather let them come to you for the help. It is a completely different scenario when someone seeks out your help. Ask them what you can do to help them make these positive changes in their life. This gives them control of their own change and as a result they will feel internally motivated. All you can do is make the conditions right in order to help someone change.
When it comes down to it, we can't do anything to make anyone see what we want him or her to see. You cannot change the people around you, but you can change the people that you choose to be around. Do not make the mistake of wasting your precious time trying to fix something about someone they do not seem to have a problem with.
If you have someone in your life that is making poor choices that are affecting you, it is in your best interest to not associate with them. You both have the right to make your own decisions. Ultimately, the greatest thing we can do to others is to accept them for who they are and the path of life they wish to embark on.
The key thing to remember is that you can't change people; they must want to change for themselves.