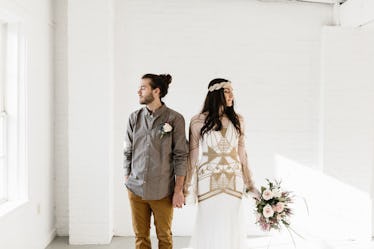 5 Signs You & Your Partner Won't Last In Marriage, So Think Hard Before Saying "I Do"
Deciding to get married to someone is one of the biggest decisions you'll ever make, but, despite the fact that it's a super intense, life-altering decision, there can also be a tendency to want to rush down the aisle even when there are signs you and your partner won't last in marriage. Maybe it's about getting caught up in the romance, or the desire for security, or maybe it's all those sweet wedding gifts. I mean, I don't care how unromantic you are — when you see folks walking around Target with that wedding registration scanner, you start hearing those wedding bells ringing. And listen, I want that bad*ss Ninja blender just as much as you do, but it's no reason to rush into a legally binding marriage.
So, if you're in a relationship that seems like it's on the marriage track, it's time to really stop and think if your relationship can realistically go the distance, or if there are any indications that there are fundamental problems between you. To help spot the deal breakers, I reached out relationship expert and host of the Dates & Mates Podcast, Damona Hoffman, to break down exactly what the signs are that mean you should be saying, "I don't." Here's what she had to say.