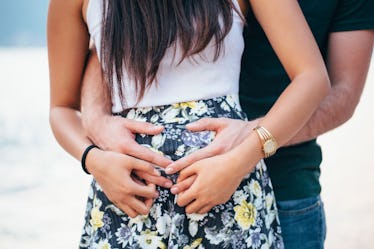 4 Subtle Signs Your Partner Wants To Have Kids With You, Because Baby Fever Is So Real
So, tell me if this sounds familiar. For as long as you and your partner have been together, the agreement was always that you either didn't want kids, or at least not until some far-off time in the future. But now, something has changed. In the past, when you commented on being glad you aren't stuck home on the weekends like our friends with kids, instead of chiming in like they normally would, your SO just goes quiet. My friend, that may be one of the signs your partner wants to have kids with you, but hasn't worked up the nerve to tell you directly, so they just want to gently feel you out on the subject of starting a family.
Are you panicking? Please don't. I'm not saying they're going to start hiding your birth control pills or anything, just that it's possible that their feelings about having a family with you are evolving. This can happen, even to the most previously determined-not-to-procreate folks, as they get older or as your relationship grows closer and they start to really see a future with the person they're with. If you suspect this might be happening to your SO, well, there are more signs you can keep an eye out for. Signs that, the experts say when taken together, may prove that your SO has caught a serious case of baby fever.