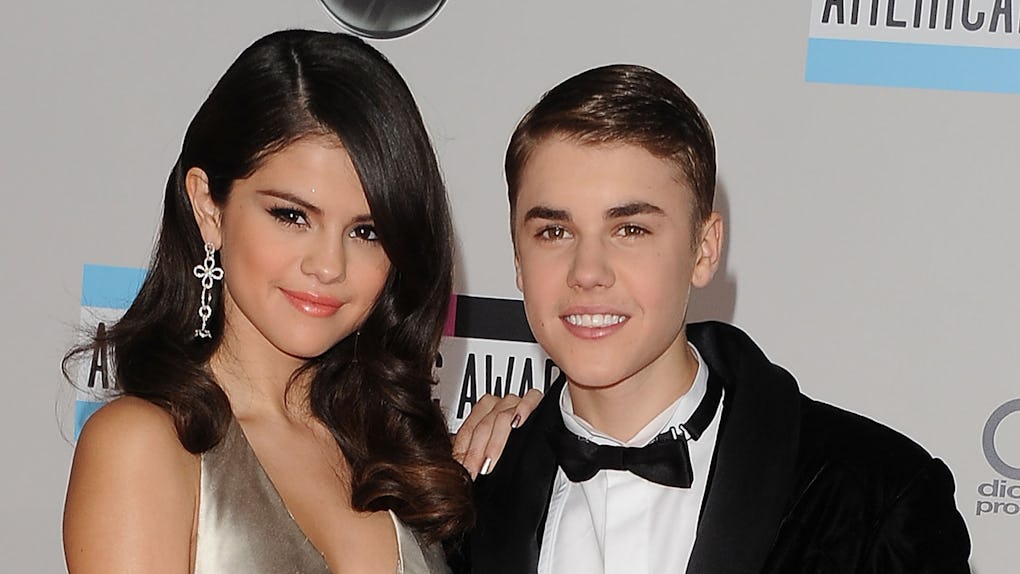 Jason Merritt/TERM/Getty Images Entertainment/Getty Images
8 Celeb Exes Who Got Back Together To Give You Hope For Selena Gomez & Justin Bieber
Recent news of a possible Justin Bieber and Selena Gomez reunion has been making fans lose their minds. JELENA COULD BE BACK IN OUR LIVES. Also, they could be just friends, BUT JELENA WOULD BE SO MUCH BETTER. *Heavy breathing.* For those of you thinking Gomez and Bieber would never, ever get back together... think again. There are actually tons of celebrity exes who got back together — which could give fans hope for Gomez and Bieber.
Some celebrity relationships seem so exhausting, and that's because they usually are. However, Bieber and Gomez have spent time apart and have grown in their careers. The couple dated from roughly 2010 to 2013 before breaking up. Some think Selena was Justin's first love.
In 2015, Bieber made an appearance on the Ellen DeGeneres Show. She asked him if he thought Jelena would ever get back together.
Bieber responded,
Maybe... We have a lot of history together, so... it possibly could happen. I think we're both just on our own journeys of just figuring ourselves out and I think maybe once we figure ourselves out we can come together and make an awesome duo.
He added,
Or, you know, she'll find someone awesome [and] I'll find someone awesome. I just want her to be happy, honestly.
Awww, Biebs. That's sweet AF. He and Gomez have managed to stay friends all these years, so you never know.
There are many celeb couples who have been on-again-off-again more than Jelena. Below are eight examples that will give you hope for Bieber and Gomez.
1. Miley Cyrus And Liam Hemsworth
Let us never forget the guessing game Miley Cyrus and Liam Hemsworth put us through. Dating rumors started between the couple in 2009 after they shot The Last Song together. They kept fans guessing about their status until 2012 when they announced their engagement, according to E! News.
Then, just a year later, they ended their engagement. Hemsworth went on to shoot The Hunger Games and Cyrus went through her Bangerz phase. The two seemed like they were over for good. Then in 2016, they announced their engagement was back on and we were all like, "WTF?"
Now, we are all happy for them and they make an adorable couple, but let us not forget the eight years of back and forth they put us through.
2. Kourtney Kardashian And Scott Disick
This is like the gold standard of on-again-off-again couples. Scott was on the first ever episode of Keeping Up With The Kardashians in 2007. He and Kourtney suffered their first breakup in 2009 and have stayed rowdy ever since.
They have broken up and gotten back together so many times, I don't think they can even define their relationship. Kardashian and Disick truly have a bizarre relationship, but one thing remains constant — the stability for their kids. During the Keeping Up With the Kardashians 10-year anniversary special, Kourtney made it very clear that the two put a big emphasis on co-parenting and work hard to maintain that balance. When Disick joined the family during the TV special, he admitted,
She's the only person I've ever loved in my life.
So, you're saying there's a chance? OF COURSE, THERE'S ALWAYS A CHANCE WITH THESE TWO.
3. Gigi Hadid And Zayn Malik
Gasp. Say it isn't so. Hadid and Malik are just about as perfect as it gets, but they have hit a few rough patches. I mean, no one is actually perfect, after all. According to E! News, seven months after the couple started dating in 2015, they split. The source claimed the two fought during Hadid's birthday, and the couple had "broken up and got back together a few times."
As we know now, they seem to be totally "on" and continue being the most gorgeous couple on the planet.
4. Chris Brown And Rihanna
I think we can all agree this should just be off. The two announced they were a thing in 2008 and fans couldn't handle it. Back in the day, this felt like a Beyoncé and Jay-Z in the making.
As we all know, this came to a hault in 2009 when Brown got violent and assaulted Rihanna. He later pleaded guilty to felony assault, which resulted in five years of probation and a restraining order preventing him from contacting Rihanna.
2013 led to the most shocking reunion of all time when Rihanna publicly announced she and Brown were indeed an item... again. She told Rolling Stone,
I wasn't going to let anybody's opinion get in the way of that. Even if it's a mistake, it's my mistake. After being tormented for so many years, being angry and dark, I'd rather just live my truth and take the backlash. I can handle it.
The couple called it quits that following May — hopefully for good. Rihanna has obviously moved on to much greener pastures.
5. Amber Rose And Wiz Khalifa
This one is kind of a head scratcher, but they seem to be friends as of now. Amber Rose first started appearing in a ton headlines for her relationship with Kanye West. ISN'T THAT SO WEIRD TO THINK ABOUT NOW? Anyways, after her breakup with Yeezy, Rose started dating rapper Wiz Khalifa.
According to Cosmopolitan, Rose and Khalifa got hitched in 2013 and split (very messily, with a lot of social media drama) a year later. After that, she puzzled fans by posting Wiz as her #ManCrushEveryday and has expressed she will always have love for him.
To date, Amber Rose is happily dating rapper 21 Savage, but I'm sure she will always have a soft spot for Wiz.
6. John Mayer And Katy Perry
John Mayer has had a few girlfriends who have lingered. Musicians, amiright? While Jennifer Aniston and Jessica Simpson come to mind, Mayer was most famously on-and-off with Katy Perry.
The pair split in 2016 after two years of this back and forth. They always kept it weird. You would think they were broken up, and then boom... photos would surface of a Disneyland outing. So, who knows what's next for these two.
7. P!nk And Carey Hart
P!nk is living her best life right now. She just released an amazing album, Beautiful Trauma, and has a loving family. She and husband, Carey Hart, have definitely paid their dues. According to E! News, their relationship timeline goes something like this:
2001: P!nk and Hart start dating. Oh yeah!
2003: They split briefly. No!
2005–2006: The couple gets engaged and married. Woo!
2008: They split. Boo!
2010: Back together and adorable. Yay!
I'm so glad these two got back on track, their family is the cutest.
8. Prince William And Kate Middleton
Even royal couples can have a snag. Prince William and Kate Middleton (aka Mom and Dad) started dating in college. In 2007, after a few years together, they broke up. Reportedly, it was because of a warning from Queen Elizabeth. According to Cosmo, the Queen told William he better be sure about Kate because it's a hell of a lot of pressure to be royal (I'm paraphrasing).
Apparently, he was sure after some time apart, because the two reunited in 2009 and eventually wed.
As you can see, all sorts of couples have their ups and downs. I hope some of these hot-and-cold couples have given you a tiny dash of hope for Jelena. Fingers crossed.
Check out the entire Gen Why series and other videos on Facebook and the Bustle app across Apple TV, Roku, and Amazon Fire TV.