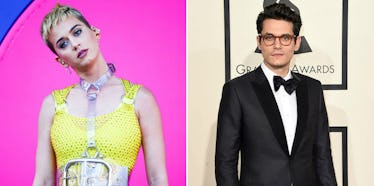 Fans Think Katy Perry And John Mayer Should Date Again For The Cutest Reason Ever
Rich Fury/Getty Image and Jason Merritt/Getty Images
Look, Katy Perry meant business when it came to her 72 hour Witness World Wide live stream event.
The singer chose to let the world into her personal life for a full three days, including while she slept, ate, and did everything in-between.
As part of it, The Late Late Show host James Corden popped by to play his now famous game "Spill Your Guts Or Fill Your Guts" in which celebrity contestants are asked some hard hitting questions about their lives. If they refuse to answer, they need to eat something seriously disgusting, like pickled pigs' feet or bird saliva, for example.
As part of Perry's turn at the disgusting wheel, Corden asked her to rank who is the best in bed out of three of her previous lovers: Diplo, Orlando Bloom, and John Mayer.
After some hesitation and the threat of consuming a thousand-year-old egg, Perry spilled... her... guts.
Corden got the conversation started by suggesting, "I think Diplo's third... I do, I do. Because I think there's a reason people become DJs."
Perry basically confirmed.
From there, she placed Bloom in second and Mayer in first. However, Katy insisted they all are "amazing lovers " and said she "would have sex with all of them after [she gets] out of this place."
Katy Perry and John Mayer famously split after dating on and off for two years, and the news that he is her best lover to date is too much for fans to take.
Allegedly, the famous pair broke things off for being too different, as reported by People in 2016. A source told the publication,
They're two very strong-willed people. Despite caring about each other very much and wanting to make it work, they are, at their core, quite different.
Additionally, Katy has admitted to loving the person who calls her "Prism," which is the name of her 2013 album.
Well, well, well. That's enough to make her fans' heads explode.
Of course, this comes only a few months after John revealed his song "Still Feel Like Your Man" is about Katy.
In a New York Times interview back in March, John said,
Who else would I be thinking about? And by the way, it's a testament to the fact that I have not dated a lot of people in the last five, six years. That was my only relationship. So it's like, give me this, people.
Oh, John, you can HAVE it. Just listen to the song.
SOUNDS LIKE EVERLASTING LOVE TO US!
Back to Katy's soul purge – she didn't stop there with her love life. She also admitted the song "The One That Got Away" is about her good friend Josh Groban, though she insists she doesn't have feelings for him anymore today.
Katy, girl, quit playing games with our hearts and get back together with John already! Social media KNOWS true love when it sees it!
Keep up with Katy in her live stream below, and keep your eyes peeled for any Mayer cameos.