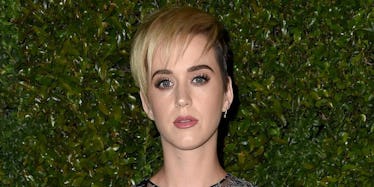 Katy Perry Reveals Past Suicidal Thoughts During A Heartbreaking Livestream
Getty Images
Katy Perry definitely did not hold back during her chat with Dr. Siri Sat Nam Singh, host of Viceland's The Therapist. She revealed a dark side of her past with complete candor, and fans will undoubtedly feel emotional while hearing about her experiences.
The singer pulled back an untouchable layer of stardom and gave fans an inside look at an honest therapy session, where she discussed everything from living in the moment and the difference between Kathryn Hudson (her real name) and her pop star alter ego, Katy Perry. In honor of her new album, Witness, Perry intends to create a purposeful statement, which is why she has decided to livestream from her personal YouTube channel this weekend, according to People.
The 32-year-old recalled drawing an "authenticity" inspirational Angel Card after she released her Prism album and decided to seek a more genuine life. Though she focused on her inspirations, Perry didn't hide any struggles, either. She discussed issues with substance abuse and thoughts on suicide. "I wrote a song about it," she said during the interview. "I feel ashamed that I would have those thoughts, feel that low and that depressed."
Twitter responded positively to the star's tearful words and assured her they had her back.
Sometimes it seems as though these celebrities are untouchable, but this raw interview shows just how relatable Perry can be. She also added during the interview, "That's the point of this whole thing, if people can see I'm just like them then they can dream just as big."
Though we oftentimes get caught up in Perry's music (or even the beef with Taylor Swift) this interview shows fans that she faces struggles, just like the rest of us. It's open and honest, and you have to give her credit for sharing these intense feelings when she faces public scrutiny.