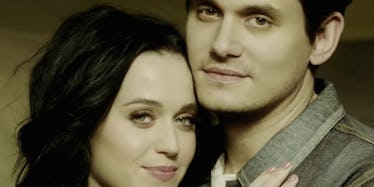 John Mayer Says New Song Is For Katy Perry: 'I'm Never Gonna Find Another You'
YouTube
Clearly, John Mayer is still not over Katy Perry.
On the heels of the release of his new song, "Still Feel Like Your Man," the 39-year-old singer/songwriter recently sat down with the New York Times for an in-depth interview.
In speaking with the Times, Mayer revealed his new track was written of his ex, Katy Perry.
The 39-year-old said,
Who else would I be thinking about? And by the way, it's a testament to the fact that I have not dated a lot of people in the last five, six years. That was my only relationship. So it's like, give me this, people.
You hear that, everyone? Let John Mayer have his moment, OK?
The man's not a serial dater, and in 2017, that's probably something to be very, very proud of!
BTW, have you heard Mayer's new song?
This is definitely the jam you play on Sunday morning, or when you're on a long drive thinking about the one that got away.
Right?
Here are some of the lyrics from the above song:
Still like the letters in your name and how they feel, babe... Still think I'm never gonna find another you... Still like to leave the party early and go home, babe... And don't you know, babe... I'd rather sit here on my own and be alone, babe.
The song is off the 39-year-old's new album, "The Search for Everything," which, if you give it a listen, kind of sounds like one big Katy Perry pity party.
Try saying that 10x fast!
Speaking on his emotions following his split from Katy Perry, John Mayer told the New York Times,
There were times when tears came out of me, and I went, OK, John, this is not about an on-again, off-again relationship. This is something more profound.
Speaking about the entertainment dating scene in general, Mayer said,
It's just lot of chatter... we all talk to the same people. There are very few people actually meeting up.
Interesting. I wonder who Johnny boy is talking about.
Despite the fact he appears to be far from over Katy Perry, John Mayer did talk about his plans to have a family in the near future.
He said,
I wish there was somebody to throw me the 40th. I want the baby with the protective earphones.
Someone have this man's babies!
Citations: John Mayer Admits His New Song Is About Katy Perry: "Who Else Would I Be Thinking About?" (E! News)