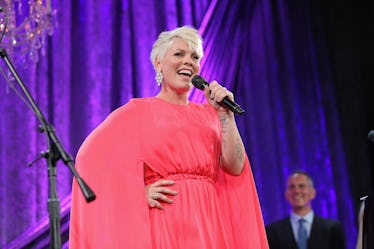 Pink Announced She's Going On Tour And Fans Are Losing It On Twitter
Chelsea Lauren/Getty Images Entertainment/Getty Images
EVERYONE, JUST RELAX. OK, nevermind... you totally have permission to freak out because P!nk is going on tour and all is right in the pop culture world again. I know where your mind is drifting — you want to know how to buy tickets to P!nk's tour. I'll get there, but first, let me give you some details.
On Thursday, Oct. 5, P!nk announced that she is back in full force for a North American tour that she has named The Beautiful Trauma World Tour 2018. According to ET Online, the 40-date arena tour kicks off in Phoenix, Arizona, on Mar. 1 and ends in Los Angeles, California, on June 2. That's a ton of shows crammed into a very short amount of time. A feat only P!nk could accomplish.
This tour is a very big deal because it's the first time the pop star has toured in three years — since The Truth About Love Tour which went from 2013 to 2014.
In addition to the exciting news, P!nk also dropped "Whatever You Want" from her upcoming album, Beautiful Trauma, that comes out Friday, Oct. 13. Needless to say, fans had no chill.
This is the third song to be released from Beautiful Trauma, following "What About Us" and the title track, "Beautiful Trauma." This album is clearly going to be very near and dear to P!nk.
On Wednesday, Sept. 27, one day before releasing "Beautiful Trauma," P!nk took to Twitter to express the motivation behind creating the song. She said in a series of tweets,
Tomorrow I'm releasing the title track to BEAUTIFUL TRAUMA. I wrote the song with a very awesome person @jackantonoff and named the album...
After it b/c life is f*cking traumatic. But it's also incredibly beautiful, too. There's a lot of beauty still and beautiful souls. Enjoy (smile emoji)
Then, P!nk dropped the tour announcement and fans went nuts.
An announcement on Twitter also spilled that the band Bleachers will make an appearance during some of the scheduled performances. According to her ticket pre-sale page, ticket buyers will need to sign up to become a "verified fan." The website says,
P!nk cares about her fans and understands there are going to be more people who want to see her on tour than there will be available tickets. She's committed to getting tickets in the hands of fans. Not scalpers or bots. So she's collaborating with Ticketmaster to sell tickets for her tour through the Verified Fan platform – a unique fan-first technology that levels the playing field so fans get access to tickets, not software.
Tickets go on sale for American Express card members on Tuesday, Oct. 10, and the general public on Friday, Oct. 13.
Honestly, I'm not sure how P!nk juggles creating an album, touring, and having a family. I can barely juggle my Pilates class with a lunch date. Along with her tour and new album, P!nk has also collaborated with Apple Music to create a documentary about Beautiful Trauma. The video opens with P!nk explaining,
Making an album is, you know... so many moving pieces.
Then she goes on to explain all the moving parts and I become very sleepy. I'm really glad P!nk is so motivated and talented because I could never do it. Besides lack of talent, it just seems like a lot of work on my end.
If we have learned anything from P!nk during her career, it's that this woman is a badass. Besides being an amazing mother, she's an incredibly talented musician and performer. I'm sure The Beautiful Trauma World Tour is going to have some unforgettable surprises. P!nk, we love you – keeping being you.
Check out the entire Gen Why series and other videos on Facebook and the Bustle app across Apple TV, Roku, and Amazon Fire TV.