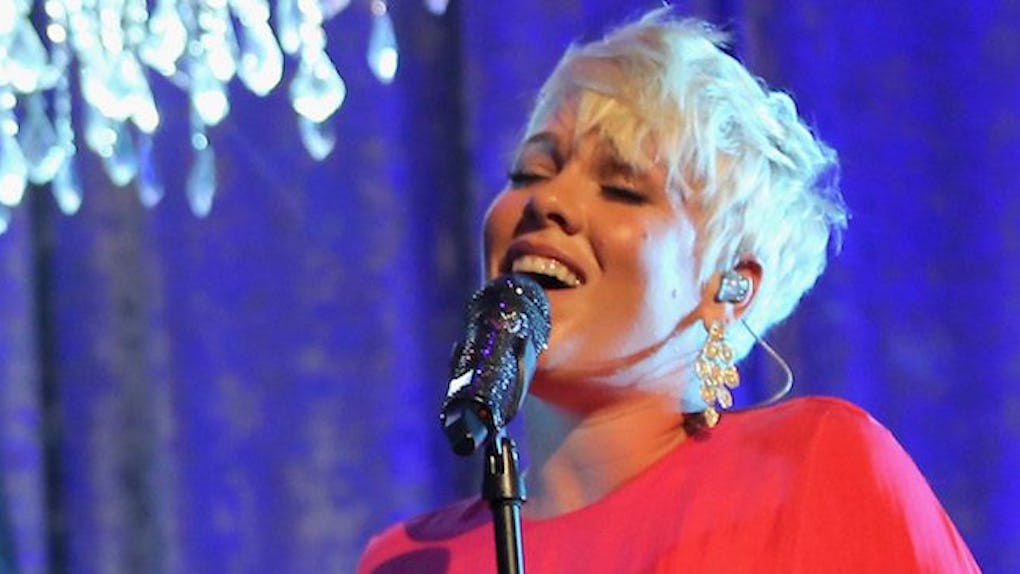 Chelsea Lauren/ Getty Images
Tweets About Pink's VMAs Performance Proves Everyone Was Scared Of Her Car Falling
P!nk's epic performance during the VMAs on Sunday, Aug. 27, gave everyone who was watching a minor panic attack. Why? Because as the pop star decided to float above the crowd in a car during her hit song, "Raise Your Glass," and people watching from home were nervous that the car would fall onto the people below her. I know, it's a morbid thought -- but viewers couldn't help but watch with anxiety until her vehicle floated safely from one stage to the other. In fact, there are a ton of tweets about P!nk's VMAs performance that prove how scared viewers were watching the show.
Some people hated to admit they were thinking about P!nk's car falling into the audience, while others were downright terrified for everyone watching from below her. Honestly, I don't blame them. I'd be terrified if I was watching from below the car. Needless to say, the first thing I thought about when the vehicle took off was how completely devastating it would be if her car came crashing into the crowd. Thankfully, that did not happen. However, tweets about worried viewers will give you so much anxiety for fans watching from below.
"People in the crowd bopping to Pink while looking out for the car."
"Idk how safe that is..."
The scariest "what if" of the night.
"I was hoping the car didn't fall on those people."
Me too.
However, some people knew P!nk had it under control and compared the scene to Grease instead.
... and Chitty Chitty Bang Bang.
Hey, as long as the car stayed in the air, people can compare the performance to anything they want to. Whether you watched P!nk sing from your home or below her levitating car, you're probably safe -- and that's all that matters.
P!nk's performance honored her acceptance of the 2017 Vanguard Award at the VMAs. Even though parts of the show gave viewers a bit of anxiety, it's safe to say the performance was epic and that she truly deserved the award.